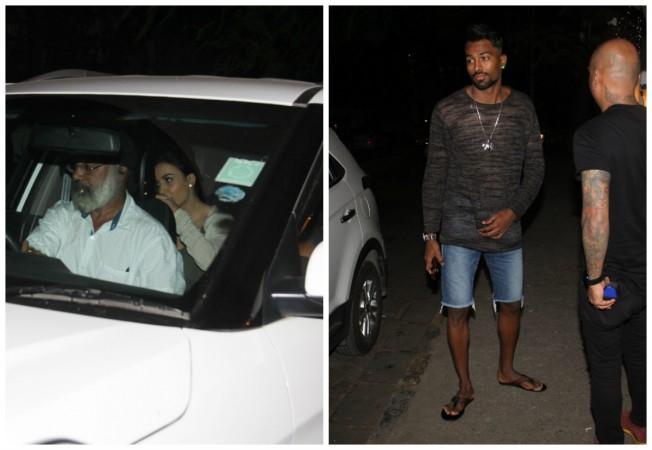 Although Elli Avram has denied dating cricketer Hardik Pandya, the actress' actions suggest there is indeed something happening between the two.
Elli and Hardik were recently spotted together outside Hakim Aalim's salon. However, the actress was uncomfortable due to the cameras and desperately tried to hide her face when she was being clicked.
Although Hardik looked fine with the paparazzi taking his photos, Elli was too shy to even show her face. The pictures of Elli inside the car show her trying to cover her face.
Elli had done something similar some time ago when she was spotted coming to the airport with Hardik to see him off. Even then was she seen trying to escape the lenses, but to little avail.
Rumors of Elli and Hardik's affair have been doing the rounds for quite some time now. It was reported by a popular daily that the duo first met at an event and soon started dating.
The rumors were fuelled further when Elli was spotted at Hardik's brother Krunal's wedding in December 2017. Elli and her rumored boyfriend posed together for a click as well, and the photo went viral soon after.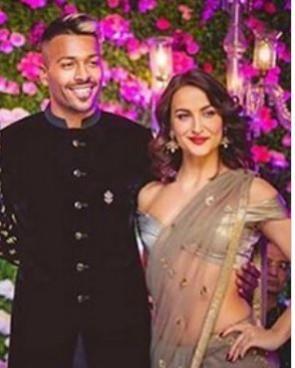 However, the gorgeous diva had earlier completely rejected the rumors and said she isn't affected by such gossip.
"Let them [people] be curious in life. Why do I need to clarify anything? By talking about these rumors, I'd just be giving more fodder for gossip. Anyway, so many wrong things have been written over the years but I've never gone out and clarified. Once you become a known face, people will follow you for gossip and news. But, we are not going to lock ourselves up. So, you can't do much to stop these rumors. People have such strong mentality that no matter what I say, they will be like, 'Oh, she is lying. We know the truth. She is hiding something," an entertainment portal had quoted Elli as saying when asked about Hardik.
Nonetheless, Elli's desperate attempts to dodge the cameras when with Hardik reminds us of the old adage: "There's no smoke without fire."
Earlier, Hardik was linked-up with actress Parineeti Chopra after the two had a candid Twitter conversation. In a tweet, Parineeti had shared picture of a bicycle with the caption reading, "The perfect trip with the most amazing partner. Love is in the air!!! [sic]"
While fans were already confused with the tweet, Hardik had made it more interesting with a comment saying, "@ParineetiChopra Can I guess? I think this is a second Bollywood & Cricket link. Great click by the way. [sic]".
"@hardikpandya7 Hahaha. Maybe. Maybe not. All I can say is that the clue is in the pic itself!!! [sic]," she had replied to his tweet.
Soon fans had started assuming that Hardik and Parineeti were dating each other. However, the actress had soon clarified with a video saying that the picture was in regard to an endorsement.