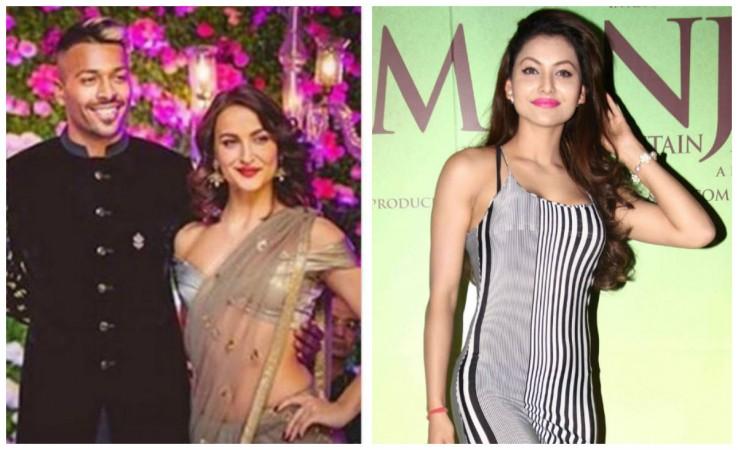 Elli Avram's rumored beau Hardik Pandya is now being linked up with Urvashi Rautela. The cricketer and the gorgeous diva recently met at an event, where the two reportedly "exchanged flirtatious looks".
According to SpotboyE, Hardik and Urvashi came across each other at industrialist Gautam Singhania's party. Hardik's brother Krunal Pandya was also present there, and the actress had a chat with both of them.
However, after some time, Urvashi got fully involved with Hardik, and onlookers felt there was something romantic evolving between the two, the report stated. A picture has also come up on social media in which Urvashi is seen sharing a frame with the two cricketer brothers.
This report has given rise to speculations of Hardik and Urvashi dating each other. However, there is no official confirmation yet, and the speculations are as good as just rumors.
On the other side, Hardik has been rumored to be in a relationship with Swedish actress Elli Avram. The two are often spotted together, and almost every time Elli is seen trying to avoid being clicked when with Hardik.
Recently, the Mickey Virus actress was spotted with the cricketer outside a salon, and while Hardik had seemed to have no problem being clicked, Elli desperately tried to hide her face from the cameras.
Although Elli and Hardik's chemistry suggests that there is something romantic between the duo, the actress had earlier denied being in a relationship.
"Let them [people] be curious in life. Why do I need to clarify anything? By talking about these rumors, I'd just be giving more fodder for gossip. Anyway, so many wrong things have been written over the years but I've never gone out and clarified. Once you become a known face, people will follow you for gossip and news. But, we are not going to lock ourselves up. So, you can't do much to stop these rumors. People have such strong mentality that no matter what I say, they will be like, 'Oh, she is lying. We know the truth. She is hiding something," Elli was quoted saying by an entertainment portal.
Nonetheless, it will be interesting to see if any response comes from either Elli or Urvashi regarding the latest buzz surrounding Hardik and the Hate Story 4 actress.