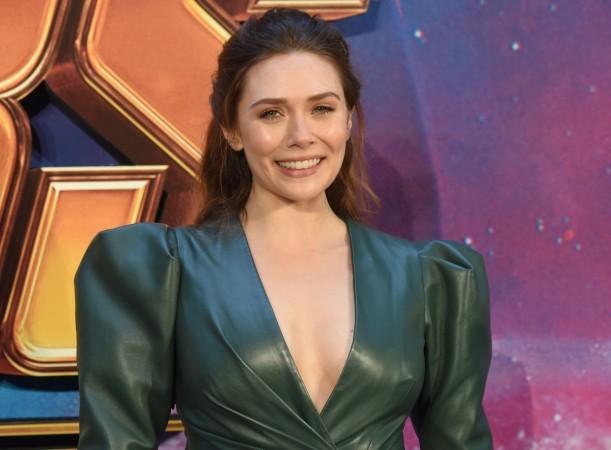 A part of the Avengers: Infinity War cast was in London recently to promote the upcoming Marvel movie. Fans got an opportunity to see Avengers 3 directors Joe and Anthony Russo come together with Sebastian Stan, Tom Hiddleston, Benedict Cumberbatch, Tom Holland, Paul Bettany, Elizabeth Olsen and Letitia Wright at the event.
While the team looked dapper at the event, the Olsen sister stood out of the crowd with her body-hugging green outfit. The 29-year-old actress, who plays the role of Scarlet Witch in the Marvel franchise, donned a green leather dress which hugged her slender figure.
Like the body-hugging dress wasn't enough to turn up the temperatures, Elizabeth ditched the bra to flaunt her cleavage through the plunging neckline. The short dress featured an 80s style shoulder pad. Around the waist, the dress gathered the leather to resemble a quirky bow.
The asymmetric gathering helped the Avengers star to flaunt her toned legs at the event. She let the focus remain on the dress and opted to merely pin up her hair back, leaving a portion of her caramel locks to fall down her shoulders.
She completed her look with the help of black stilettos, peachy blush, and a rose lipstick.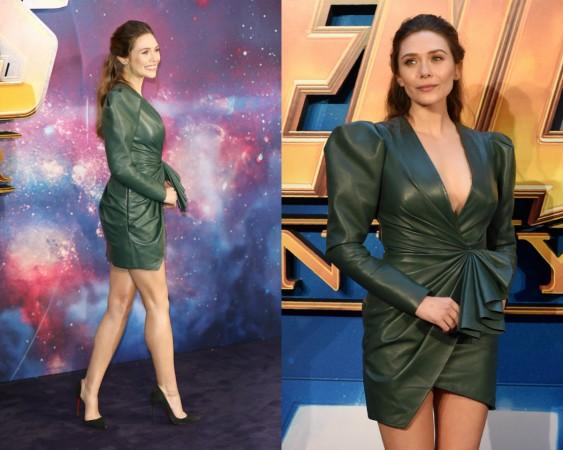 Elizabeth joined other Avengers cast, which included Black Panther star Wright. Although the women rubbed shoulders at the Marvel event, Olsen recently confessed that she hasn't seen the February release.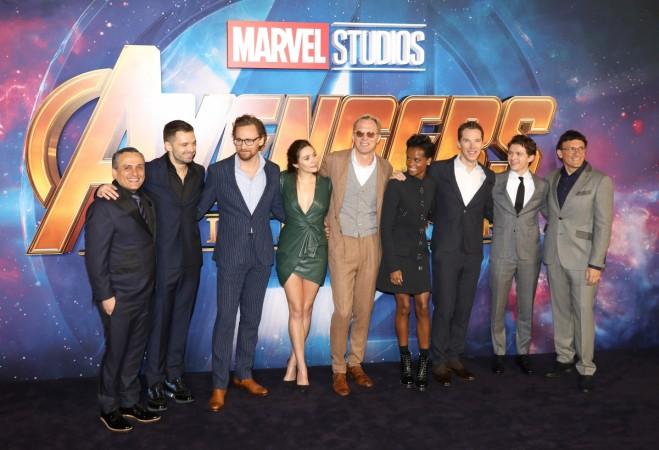 Talking about Everything Iconic with Danny Pellegrino podcast, she confessed, "I still haven't seen it. I'm horrible! I'm the worst Marvel employee."
"I see them when they're not in theaters, which is the only time you should see them — on a big screen, with an audience. It needs to happen… It's silly. I need to see it. It's really embarrassing I haven't seen it. I saw Thor on a DVD at home!" she added.
She also discussed the possibility of a standalone movie on Scarlet Witch. "It's definitely not something I'm pushing," she said.
"I don't know if it's something they're going to push either. [Avengers costar] Paul Bettany and I joke about having a domestic television show on Netflix or something. It would just be like house event, where Scarlett Witch goes bananas. That's what we joke about but I don't think either of those things are happening," her vision was revealed.
"I'm happy I'm still around and they still use me," Olsen added.
Elizabeth will play a prominent role in Avengers considering the love interest of her character holds one of the Infinity Stones Thanos is after. Her role has been teased in the trailers and fans are eager to know what's in store for Scarlet Witch and Vision.
Avengers: Infinity War releases on April 27.