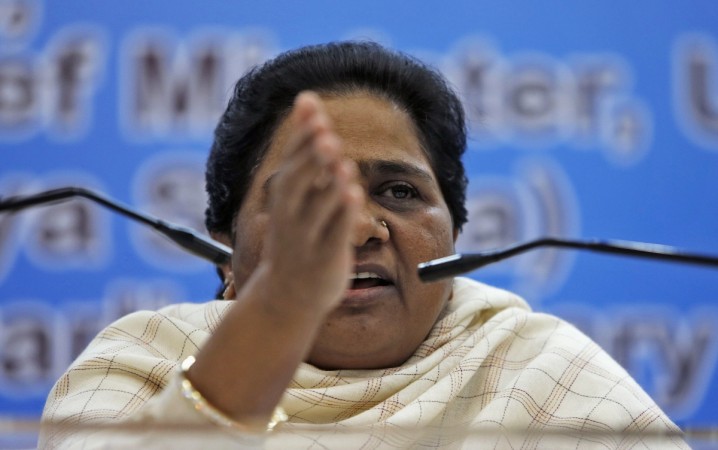 Prime Minister Narendra Modi on Saturday (February 4) took on the Congress, its alliance partner Samajwadi Party (SP) and also the Bahujan Samaj Party in one single stroke when he dubbed them together as SCAM, where S is for the SP, C stands for the Congress, A is for Akhilesh — as in SP chief and current UP Chief Minister Akhilesh Yadav — and M is for BSP supremo Mayawati.
Also read: PM Modi Meerut rally speech: 'UP election 2017 is the BJP's fight against SCAM'; loan waiver promised to sugarcane farmers
Mayawati sees Dalit undertones
However, Mayawati on Saturday evening took umbrage at the unflattering abbreviation, and accused the prime minister of insulting her because she was a Dalit. She said: "It does not suit a person sitting in the prime minister's chair to say the M in SCAM stands for Mayawati and play politics with it."
She added: "This shows the casteist nature of the prime minister." Political observers, however, were left scratching their heads, because Modi had also included the name of Akhilesh Yadav in the abbreviation, and he is not a Dalit, which goes on to show that the jibe was meant to be political and not casteist.
How the BSP chief can play this up
Mayawati and her party had played the casteist card to the hilt when then BJP member Dayashankar Singh after he called her "worse than a prostitute" when it comes to distributing poll tickets. It did not matter that leaders from her party then called for his adolescent daughter to be "presented" to them. Singh was expelled from the BJP for the comment.
If Mayawati can build similar pressure on Modi over this remark, she can get him to apologise or at least clarify his statements, which will be seen as a moral defeat for the prime minister as well as the BJP. Mayawati will then get to tom-tom this victory and look to reap electoral dividends from it.
Even if Modi does not apologise or clarify his remark, Mayawati will look to play the victim card to plead for more votes from Dalits as well as Dalit sympathisers, thereby forwarding her electoral agenda.