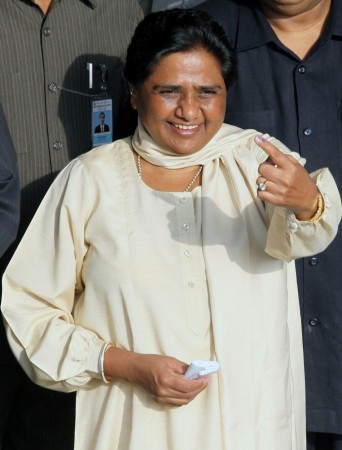 A senior leader from the Uttar Pradesh unit of the Bharatiya Janata Party recently compared Bahujan Samaj Party (BSP) supremo and former Uttar Pradesh chief minister Mayawati to a prostitute. In a video that emerged on Wednesday, UP BJP Vice-President Dayashankar Singh was heard saying Mayawati was "worse than a prostitute" when it came to distributing election tickets to candidates. He apologised for his statement later, and was also removed from all posts within the party.
The video shows Singh — who seems to be making an attempt to put the BSP on the back foot before the Uttar Pradesh assembly elections in 2017 — first saying: "Mayawati is demolishing what Kanshi Ram ji had envisioned." Kanshi Ram, a social reformer, had been the mentor of Dalit leader Mayawati, helping her grab power in the politically important state of Uttar Pradesh several times. Their relationship was loosely mirrored in the book "Chanakya Chants," written by Ashwin Sanghi.
In the video, Singh went on to compare the manner in which she was distributing election tickets to candidates to flesh trade, repeatedly using the word "veshya," which means "prostitute" in Hindi. He said: "Even a prostitute does not break a contract she enters into."
Singh further added: "But this big leader of the state, Mayawati ji, first gives a ticket to someone for Rs. 1 crore, and then when someone offers her Rs. 2 crore after an hour she gives him the same ticket. And then if someone later offers Rs. 3 crore, she gives this person the ticket."
The kicker, however, came at the end when Singh is heard saying: "Mayawati ji now has a character worse than a prostitute."
Watch the video here:
Followng the remarks, UP BJP chief Keshav Maurya said: "I think this is wrong and I apologise. Such words shouldn't be used."
Asked to comment on it, Mayawati said: "These kind of derogatory statements show that the BJP is frustrated with the growing public support for the BSP. BSP ki badhti hui taakat ki baukhlaahat hai ye, aur kuch nahin hai [This is nothing but their bewilderment at the BSP's increasing influence]."
Finance Minister Arun Jaitley said in the Rajya Sabha: "I am personally hurt that a BJP member used such derogatory words against Mayawati."
Amid a storm of condemnation that followed his remark, Singh subsequently apologised for his comments. He was also removed from all posts within the party, with the BJP clearly unwilling to risk being target by political rivals on this issue in the run-up to the Uttar Pradesh Assembly elections.