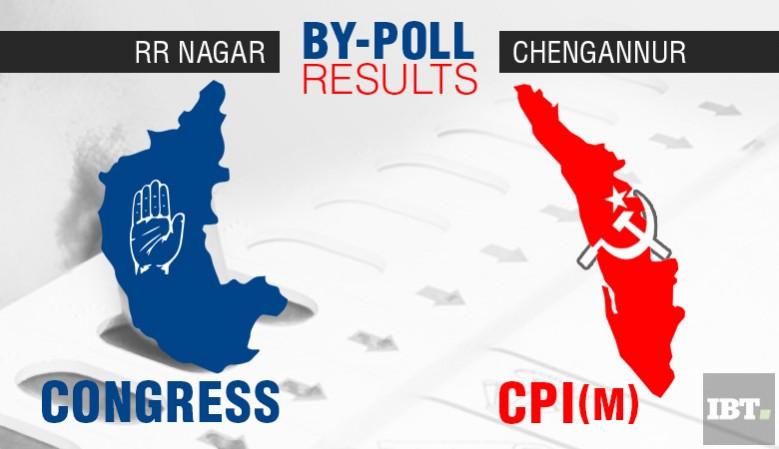 The Rajarajeshwarinagar constituency of Bengaluru went to polls much after the rest of Karnataka and the results were announced on Thursday, May 31. Counting for the votes began early in the morning. Similarly, counting has been concluded in Kerala's Chengannur.
CPI-M leader Saji Cherian emerged victorious in Kerala's Chengannur by over 20,000 votes and in Bengaluru, Congress leader Muniratna won the RR Nagar constituency with 41,162 votes.
As it happened
CPI-M leader Saji Cherian wins Chengannur
Chengannur: Kerala CM Pinarayi Vijayan spoke about CPIM's lead and said that it is a setback for BJP.
"This is people's verdict, their absolute confidence in LDF government and their faith in our initiatives and I humbly thank all voters for voting beyond religion, caste factors. We see this verdict as people's 'green signal' for LDF's development agenda," he added, according to Financial Express.
He also lashed out at the media and said: "Some 'coat and suit' media persons in TV newsrooms passed their verdicts on LDF but it is the people who have the final say, their verdict is clear."
RR Nagar: Congress wins with 41,162 votes. With this, Congress has won 79 seats in the Karnataka elections.
Chengannur: CPIM leading with 20,956 votes
RR Nagar: Cong: 52285, BJP: 20858, JDS: 10123
Congress leader Dinesh Gundu Rao also spoke about the party's victory in RR Nagar and told ANI: "We won the RR Nagar seat with huge margin, the people of Bengaluru have blessed us."
Speaking of Congress' lead, party spokesperson Priyanka Chaturvedi said that people of RR Nagar had given a "befitting reply" to BJP's lies and the "midnight drama."
She was talking about the fake voter ID cards that were found at midnight in a flat in Jallahalli in Bengaluru, after which the BJP said that Congress was behind these fake IDs.
Scores of Congress workers were seen celebrating after news of party leader Muniratna's lead broke
Chengannur: Saji Cherian is now leading with 14,229 votes
UDF candidate Vijayakumar spoke about Congress trailing in Chengannur and that the party leadership should take stock of what went wrong
RR Nagar: The Congress is leading by about 45,000 votes.
Supporters of BJP candidate Muniraju Gowda have reportedly conceded defeat
Chengannur: Speaking of the lead, Cheriyan told Asianet TV channel: "This is not my win, it is a message for Chengannur's development and people have voted for LDF's development agenda, this shows people's confidence in CM Pinarayi Vijayan and LDF."
Meanwhile, BJP candidate P Sreedharan Pillai claimed: "Both Congress and CPIM are together now, this is known to everyone here and of course, it has political impact."
RR Nagar: Congress candidate Muniratna leading by over 18,000 votes from RR Nagar
Election in RR Nagar was held on May 28
The constituency recorded around 53 percent voter turnout in 471 polling stations.
While Karnataka went to polls on May 12, with counting on May 15, election in RR Nagar was postponed
The EC has recovered fake voter ID cards in an apartment in the constituency, after which polls were postponed.
The Election Commission had confirmed that it had seized 9,746 voter ID cards from a flat in the Jalahalli area of Bengaluru.
After the seizure of the ID cards, the BJP alleged that Congress was behind this and demanded that the election in the constituency be cancelled.
Rajarajeshwari Nagar constituency is one of the biggest constituencies in the city.
A total of 14 candidates are in the fray in Rajarajeshwarinagar constituency
In Chengannur, Kerala, the Communist Party of India (Marxist) is leading as per early trends.
Voting for the seat took place on May 28, 2018
The bypoll was held after the death of sitting MLA K K Ramachandran Nair (CPIM) in January 2018
CPIM's Saji Cheriyan is leading while other D Vijaykumar of Congress, P S Sreedharan Pillai of BJP, Jiji Punthala of RJD and Madhu Chengannur of SUCIC are far behind.
Chengannur is located in the Alappuzha district of Kerala.
It has 15 seats
Congress has won it six times, 5-times in a row
CPI(M) has won it four times.