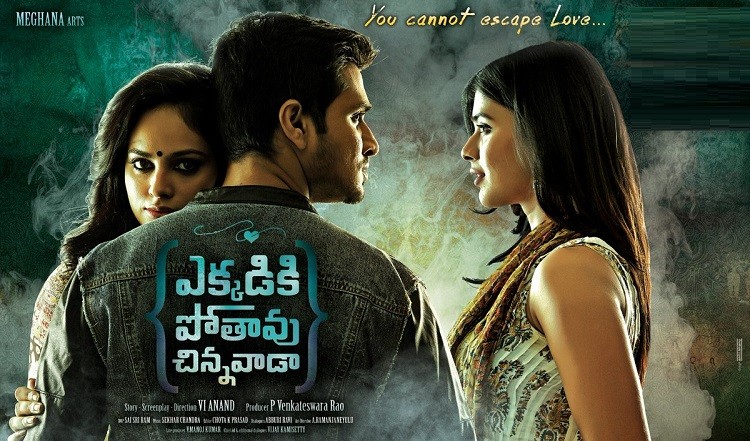 Nikhil Siddharth's much-awaited Telugu film Ekkadiki Pothavu Chinnavada (EPC) has been released in theatres today and received positive reviews and rich ratings from the film critics.
Arjun (Nikhil) is a visual effect supervisor, who fell in love with Ayesha (Avika Gor) during his college days, but split from her. Years later, he falls in love with Nithya (Hebah Patel) in Kerala, when he goes there to get treatment for his friend (Vennela Kishore), who is possessed by an evil spirit. But he realises that Nithya is also possessed by a spirit. What happens next forms the rest of the story.
Vi Anand, who earlier directed Sundeep Kishan's Tiger, has written the story and screenplay for Ekkadiki Pothavu Chinnavada, which is a nice blend of elements like fiction, love, comedy, horror and thriller. The director has penned an engaging and entertaining script for the movie, but the sluggish narration in parts is the drawback of the movie, say the critics.
Nikhil Siddharth has give a matured performance, which is the highlight of Ekkadiki Pothavu Chinnavada. Nandita Swetha, Hebah Patel and Avika Gor have good scope for performance, as the story revolves around their characters. They have done justice to their roles. Vennela Kishore's comedy is one of the big assets of the movie, say the critics.
Ekkadiki Pothavu Chinnavada has decent production values and camera work, art direction and music are the big attractions on the technical front, add the critics. We bring you some critics' verdict and ratings. Continue to see them in the Ekkadiki Pothavu Chinnavada review roundup:
India Glitz Ratings: 3
EPC keeps the audience guessing. The emotional content is convincing. The performances are impressive. Technically sound. It needn't have been shorter, but the pre-climax and climax portions could have been better fleshed out.
AP Herald Ratings: 2.5
The film has some very good moments throughout and the second half is filled with some decent moments with the entry of a special heroine and her love track. The twists that are showcased during this time are quite interesting. Ekkadiki Potavu Chinnavada has a roller coaster kind of a feel. There are certain places where the film gets very entertaining and at the same time some scenes bog down the film completely. The director takes his own sweet time to establish the story and this slows down the film.
Idle Brain Ratings: 3
First half of the film uninteresting except for last 15 minutes, where the real story is revealed. Second half is engaging and has ample entertainment. Plus points are Nikhil, screenplay in second half and entertainment in second half. On the flipside, major part of first half is not good as director didn't succeed in getting love episode and casual comedy scenes right. Another best thing about this film is that there are no gory Holloween faces which we usually see in horror films. Nikhil who has been delivering decent films recently doesn't disappoint you with Ekkadiki Pothavu Chinnavada if you don't mind an unengaging first half.
123 Telugu Ratings: 3.25
Nikhil has earned himself an image of doing some different films and it is once again proved with Ekkadiki Potavu Chinnavada. The film is really different from the regular horror comedies and has some very interesting moments to watch out for. Decent comedy and some unexpected twists are major assets for this film. If you ignore some boring moments during the initial part of the first half, this film makes up for a decent watch this weekend.