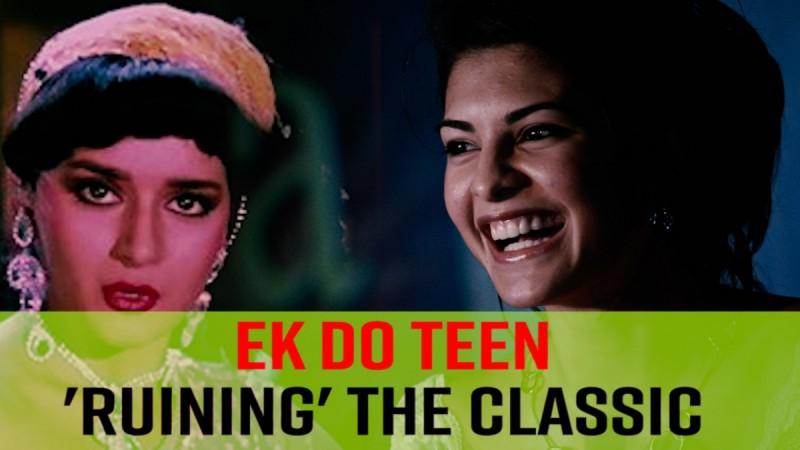 Jacqueline Fernandez's Ek Do Teen song remake for Baaghi 2, which originally featured Madhuri Dixit Nene in the iconic song by the same name from her 1988 hit film Tezaab, had received thumbs down from the audience. There were reports that veteran choreographer Saroj Khan and Tezaab producer N Chandra were planning to take action against the makers of the film.
Madhuri Dixit refused to comment on the controversy as she says she did not watch the song yet. She said people were very attached to the old Ek Do Teen song which is why probably the audience didn't like the new version.
"There is nothing wrong with remaking. I, myself, am doing the remake of Paisa Hee Paisa song. You can't say it is a bad thing to do. It was cute. It is an iconic song so they wanted to make it, but differently. People were very attached to Ek Do Teen song and so they didn't want to see the remake. You can't blame the makers," Madhuri told PTI.
Even Jacqueline's performance in the song couldn't save the song. But Madhuri is all praise for the Race 3 actress.
"I love Jacqueline Fernandez. I love the way she dances, she is so cute," Madhuri commented when asked about the criticism Jacqueline faced.
The Dhak Dhak girl will now be seen playing a naive housewife in her Marathi debut 'Bucket List'.
When she was asked about her personal bucket list, Madhuri said, "My bucket list keeps expanding. I take up challenges and when I achieve them, I take up new challenges. So it never ends. Doing a Marathi film was on my bucket list for a long time. To be able to do this film is one of the biggest things for me."
Bucket List is a refreshing tale of a housewife which will inspire you to live life to the fullest and encourage you to fulfill your every tiny wish and desires. The trailer was launched a couple of days ago in which Ranbir Kapoor was seen doing a cameo in the film.
Apart from Madhuri, the movie also stars Sumit Raghwan, Vandana Gupte, Pradeep Welankar, Shubha Khote, Dilip Prabhavalkar, Ila Bhate, Renuka Shahane, Milind Phatak and Sumedh Mudgalkar. Directed by Tejas Prabha Vijay Deoskar, the light-hearted movie will hit the theatres May 25, this year.