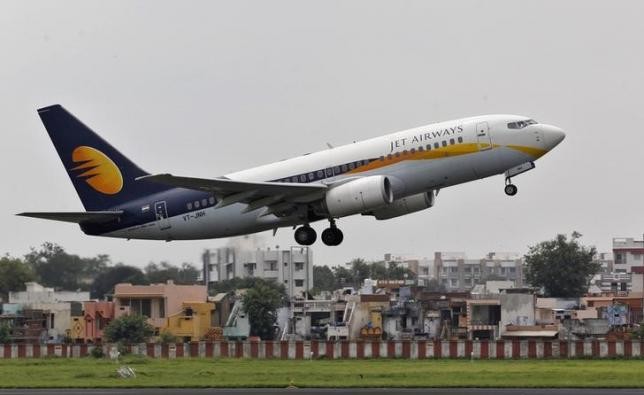 Eithad Airways has reportedly finalised a deal with Jet Airways to raise its stake in the airline by 25 percent.
With this, Etihad's stake in the Naresh Goyal-promoted airline will go up to 49 percent from 24 percent. Etihad had bought 24 percent stake in Jet Airways in 2013 for $332 million.
Both the parties have reached an agreement regarding the deal, after finalising talks over its valuation, sources told The Financial Express.
The deal can go ahead without the approval of the Foreign Investment Promotion Board, as a foreign direct investment (FDI) of upto 49 percent in domestic airlines via the automatic route is permitted.
Jet Airways will utilise the funds raised from stake sale to trim its debt and expand its operations. Its debt stood at Rs 11,920 crore at the end of the December quarter.
"We do not comment on rumours or speculation," said a Eithad Airways spokesperson, commenting on the talks.
The carrier, Thursday, decided to increase the number of daily flights between India and Dubai to 11. It will also launch new flights to Dubai in March. The decisions over operating new flights to Dubai were made after finalising the talks over stake sale, sources said.
"Last year Jet Airways managed to recover financially as a result of a slump in oil prices. As and when jet fuel prices increases, the company will need additional money to reduce the debt. They cannot compete with foreign airlines internationally so it is good policy to feed passenger to Etihad from different parts of India," an aviation expert told the daily.
Jet Airways posted a net profit of Rs 467.11 crore for the December quarter compared to Rs 63.11 crore in the corresponding period last fiscal. A 27 percent fall in fuel costs boosted the company's profits in the quarter.
The airline had a market share of 18.7 percent in the domestic air traffic in January, remaining the second largest carrier after IndiGo, according to data released by the civil aviation ministry.
Share price of Jet Airways traded 2.6 percent higher at Rs 556 on the Bombay Stock Exchange (BSE) on Friday, even as the benchmark indices remained flat.