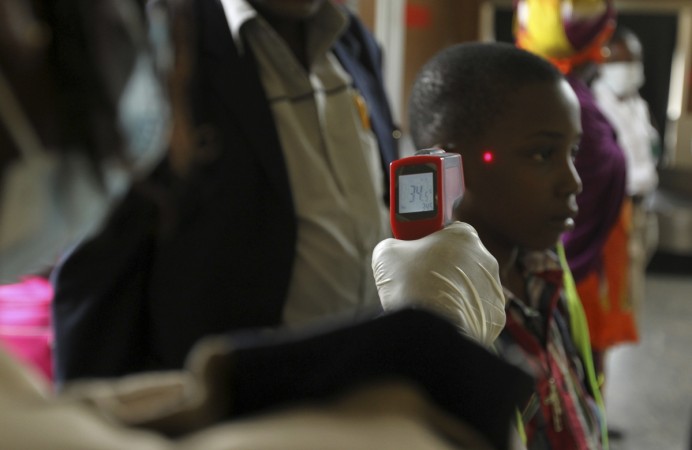 A nine-year-old girl from Nigeria has been quarantined in Kerala after she exhibited symptoms similar to Ebola on arrival at the Cochin International Airport on Monday.
Airport officials said that the child, who flew from Dubai with her parents in an Emirates flight, suffered from high fever, wheezing and cold.
She is currently undergoing treatment at the special Ebola quarantine unit of the Ernakulam General Hospital, The Times of India reported.
The girl's blood sample has been sent for Ebola testing at the National Centre for Disease Control (NCDC) in New Delhi.
Nigeria is one of the six countries affected in the current Ebola outbreak with 20 cases and eight deaths. The World Health Organisation (WHO) declared the West African country Ebola-free on 20 October.
While revealing the purpose behind their move, the authorities revealed that they were screening all passengers arriving from the Ebola-hit countries. This is the first case of quarantine reported at the Cochin International Airport. The lab result is expected to arrive on Tuesday.
On testing positive for Ebola, the whole family will be quarantined for 21 days.
The girl's mother is scheduled to undergo an orthopaedic procedure at a private hospital in Kochi.
Ebola spreads through direct contact with blood or other bodily fluids like urine or semen of an infected person. Early symptoms of the disease include body ache, high fever, vomiting, diarrhoea, haemorrhaging and joint pain.
By 25 January, about 22,092 Ebola cases and 8,810 deaths have been reported across the world. Guinea, Liberia and Sierra Leone are still trying hard to contain the deadly disease.
India hasn't reported any cases of Ebola till date. However, in October, a Japanese tourist was isolated after she developed high fever during her stay at an Imphal hotel.
Similarly in November, an Indian citizen who was cured of Ebola which he contracted in Liberia was quarantined at the New Delhi airport, after authorities detected traces of the virus in his semen.
In the same month, the Indian government confirmed the death of an Indian man named Mohammed Amir who contracted the deadly virus while working in a pharmacy in Liberia.