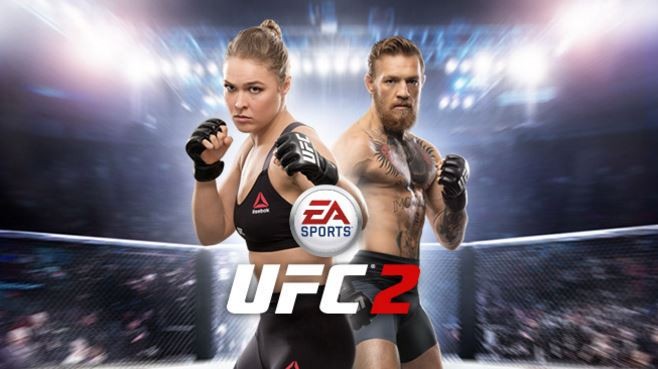 One of the eagerly awaited unveils in 2016 is the EA Sports UFC 2, whose details were unveiled by its publisher with a new gameplay trailer, release date and pre-order bonuses.
EA released a new gameplay trailer that shows Conor McGregor, who is the cover athlete for the game, and a featherweight champion make use of the revolutionary new Knockout Physics System, displaying some of the authentic gameplay features like Dynamic Grappling, Next-Level Submissions.
The trailer also featured some of the biggest moments in the recent UFC matches that included Ronda Rousey one of the cover athletes' surprising loss to Holly Holm.
It also revealed that UFC Hall of Famer and three-time King of Pancrase Bas Rutten, Japanese MMA legend "The Gracie Hunter" Kazushi Sakuraba and a mystery fighter will be part of the pre-order bonus.
It also noted that the pre-order bonus for Deluxe version of the game will be inclusive of above mentioned three fighters and also $60 of UFC Ultimate Team Premium Packs.
"Whether fans want to play upcoming cards, recreate the outcome of recent fights, or go back to fight with MMA legends, we'll help them do that in the most authentic and exciting way ever in an MMA simulation," said Brian Hayes, Creative Director.
Detailing the new features that will be part of EA Sports UFC 2, EA noted that the Knockout Physics System is a "revolutionary new physics-driven hit reaction and knockout system" that will be delivering authentic KOs that are more rewarding.
The game will let players "experience the freedom of independent fighter control in every grappling situation" and will feature simultaneous two-fighter interaction. The Next-Level Submissions include standing submissions and ability to surprise the rival with flying armbar or a quick transition from a knee bar to a heel hook.
The new defence mechanism will give players greater control over the fighter's head movements and has improved blocking and parrying system, with new tools that will block the rival's attacks.
It will be featuring new facial modelling rig, hair physics, and improved strike deformation work thus adding more realism in the game than ever before.
Players will also be able to make use of the new Training Camp system that will let them prepare for the fights. This also allows for players to control the career of their fighters.
It also said that the game will have UFC Ultimate Team, KO mode, Custom Event Creator, Online Championships (which will see a new Title Chase), Live Events, ability to create a fighter with Fighter Creation tool letting players sculpt faces, tattoo customisations, and the ability to create female fighters, a first in the franchise.
The game will also feature Practise mode, Skill Challenges (with up to twelve new mini-games) and new grappling assistance display.
It was previously revealed that this game will have one of the biggest rosters in a fighting game, with promises of over 250 UFC athletes.
EA Sports UFC 2 will be released on 15 March, 2016 in North America. It will hit worldwide stores on 17 March, 2016. This fighting game will be rolling out on PS4 and Xbox One.