After rewriting record books with his sixth Test double century, Indian captain Virat Kohli revealed how he was "quite low" in the year 2012 and transformed himself as an international cricketer.
Yesterday (December 3), Kohli hit a career-best 243 against Sri Lanka on the second day of the third Test at Delhi's Feroz Shah Kotla stadium. On way to this top-class knock, he broke records.
After the day's play, Kohli was interviewed by team-mate Cheteshwar Pujara for bcci.tv and the Delhi right-hander spoke about his highs, lows, favourite format and many more. Pujara said it was "dream" for any anchor or reporter to interview Kohli.
Here are the excerpts
Pujara: How does it feel after scoring sixth double hundred?
Kohli: Feels wonderful. It was always my mindset to score big hundreds. Something I have watched you do a lot in your career early on and learnt also, how to concentrate for longer periods. (It is a big big compliment, sorry to interrup, says Pujara). No, not at all. We all learnt from his long innings for so long. His concentration levels and his will to keep batting on, I got inspired by that, to keep batting for the team as long as possible. I now think how I can play more for the team. You don't feel the tiredness, you just keep carrying on looking at the situation.
Pujara: What keeps you going. You play all formats of the game. You perform consistently in all the formats. It is always difficult for an athlete or any cricketer to keep on scoring those runs, still diving on the field all around. What keeps you going?
Kohli: We know as professional cricketers that we don't have many years. We have to make the most of it. I try to stay as fit as possible. Take care of my diet, take care of my training and it has paid off till now. In the later half of my career I know it is going to get more difficult. I am trying to put in as much training possible, now. Later on I can still manage to keep the same kind of intensity. But we all are training so hard now and it is showing on the field. I am just trying to do the same.
Pujara: When did this transformation start, because I have seen you in Under-19 days and the change in your look (laughter from both), the way you move around. When did it all start?
Kohli: It started in 2012 IPL (Indian Premier League) when I had a very bad season. I was expecting a lot from that season because I had scored a Test hundred in Australia, then I had scored 180 against Pakistan in Asia Cup. So I thought IPL is one tournament where all Indian players love playing. I thought I want to dominate IPL but it did not end up happening. I was quite disappointed and I was quite low because of that. And in IPL when you don't have form it can really come together because there are 14 games very quickly. And I could not come out of that. My mental state was very bad, I was eating very bad, my habits were not good at all. So I went home afterwards and I saw myself in the mirror after coming out of the shower (laughs) and said I can't look like this if I want to be international cricketer. So from the next day onwards I changed everything - my diet, training. I was in the gym everyday for an hour and a half to two hours. I just completely changed my diet.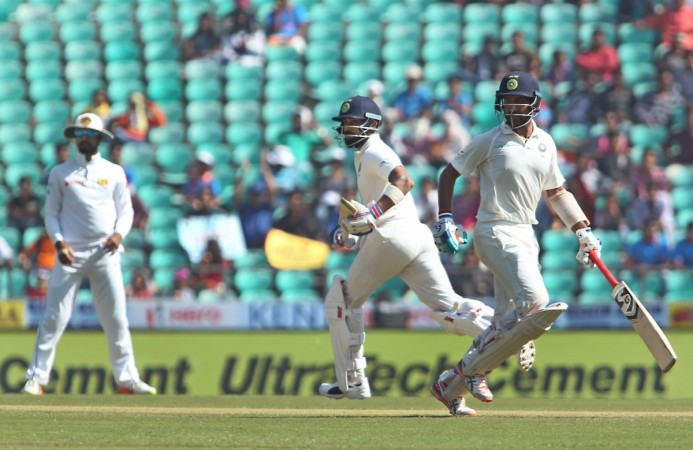 Pujara: When I talk about double hundreds, I am sure he will score a double hundred in ODIs. Is it something on the cards?
Kohli: Well, it is not something which I can plan. Openers have a better chance. Maybe if I get to bat early. (But) if the wicket is nice you rarely get to bat in the first two or three overs. When it is challenging you can go in as number three very quickly. You know that in Test matches also. I don't know. If we are batting first in some game and the wicket is nice to bat on, somehow if I get to bat (early). You know I don't want to be on the field in the first five overs because you want a good start. If I end up doing that, get a good start, maybe I can carry on. I have come close twice. But it is something which you can't pinpoint. Rohit (Sharma) has done it two times. I don't think that I can hit as many shots as him, in the later half of the innings. That is why he ended up doing that. He is unstoppable if he goes past 130 or 140. I will try to do it if I have enough overs.
Pujara: He is very modest about it. But I am very confident that he will eventually get there. Talking about having so many fans throughout the world, does it bother you that you can't get enough privacy, you can't move around where you want to be.
Kohli: I love enjoying myself on the field. I love meeting children also because they don't have any motives when they come to meet you. And genuine fans you can tell. You can't say that about everyone. I like that connect with people where I know their intention. If their intention is good I can meet anyone.
Pujara: Which is your favourite format. You have scored so many hundreds and double hundreds, which is your favourite one?
Kohli: My favourite format is obviously Test cricket. That is where we are now making sure, from every angle, that this is the most important format because as batsman or bowlers also we know how pleasing it is to score in Test matches especially when conditions are tough. Sometimes you have batted for 500 balls in Ranji (Trophy). Sometimes you have to do things like that, have to counter conditions in England, South Africa, Australia. So, job satisfaction is the most in this format. ODI and T20 also, just from an emotional point of view when there is a full stadium and when you win a close game that gives you a high. My favourite hundred would be Adelaide second innings (141 versus Australia, December 2014). And my favourite double hundred till now would be Mumbai 235 (against England, December 2016).
Pujara: I always ask any other cricketer whether they can challenge me in any other sport and which one will you pick?
Kohli: I am going to admit something today (laughter from both). I am very competitive and I hate playing against people who don't make errors. This is one guy who will play so safe every sport and I end up making so many unforced errors and lose everything. Table Tennis, Tennis and even FIFA now, he started beating me. So I got to try my luck at badminton with him because that is faster game. I think I can beat you at badminton.
Pujara: This challenge is pending and we will have a badminton game soon.