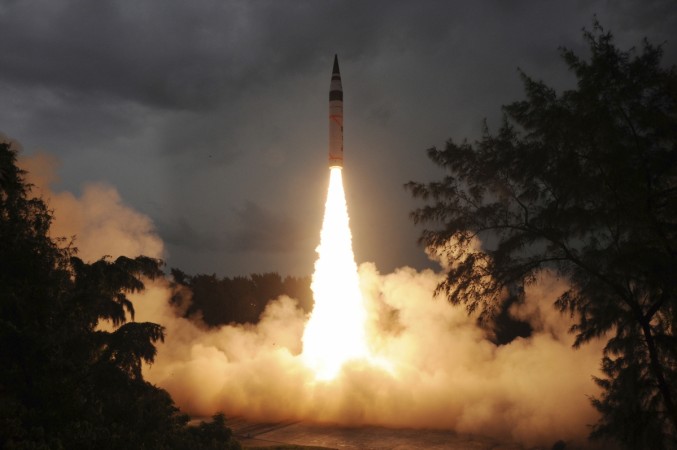 The Defence Research and Development Organisation (DRDO) has test-fired the nuclear capable K-4 missile from the indigenous nuclear-powered ballistic missile submarine, INS Arihant, the New Indian Express reported, citing a reliable source Friday. According to the report, it was a "highly successful" test, carrying a dummy payload but in full operational configuration from INS Arihant.
The test was conducted with due support from Strategic Forces Command (SFC). The missile was reportedly fired from the onboard silos of INS Arihant from a depth of 20 metre.
The K-4 missile is a 17-tonne submarine-launched ballistic missile (SLBM) with an operational range of 3,500 km and can carry conventional and nuclear warheads weighing over 2,000 kg. It belongs to the K-series of missiles that also includes the K-15 missile (B-05) with a range of 750 km.
"Having an operational range of nearly 3,500 km, the missile was fired towards north for a shorter range. It covered more than 700 km before zeroing on the target with high accuracy reaching close to zero circular error probability (CEP)," the report's source was quoted as saying.
The K-4 features boost-glide flight profile, and is so designed that it is claimed that it can defeat any anti-ballistic missile systems. It is also reported to be "one of its kind in the world."
The report noted that while the DRDO officials "refused to speak," other officials linked with the project were "tight-lipped" about it.
Previously, the missile was test-fired from a submerged pontoon March 7, which was a "roaring" success, meeting all the critical parameters, the New Indian Express had reported.
The K-4 and the K-15 missiles are an important part of India's nuclear triad, which provides India with retaliatory nuclear strike capability.
Last year, INS Arihant had successfully conducted test firing of the K-15 missile. Reports have suggested that the homegrown submarine can carry four K-4s and 12 K-15s. Arihant completed its deep sea trails and weapons launch tests February 2016 paving the way for its induction into Indian Naval fleet, the Economic Times reported.
Apart from INS Arihant, India is also constructing INS Aridhaman, which will be followed by another two of the same class of submarines.