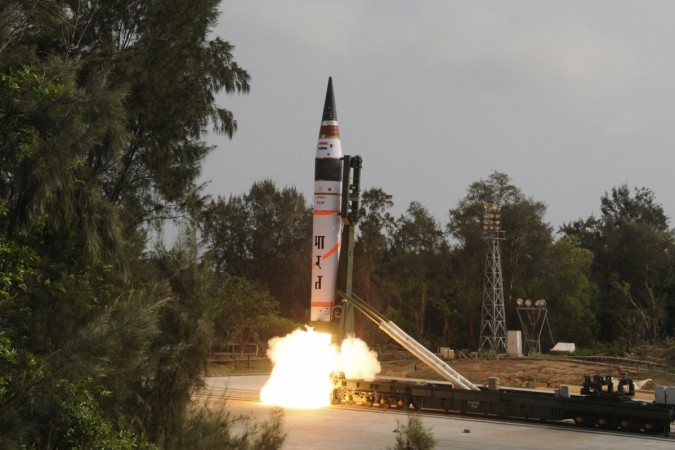 Recent reports suggested that India's premiere defence research lab, the Defence Research and Development Organisation (DRDO), had test-fired the nuclear-capable K-4 underwater missile from a submerged pontoon March 7.
Though the supposed test details were not made public, the New Indian Express cited a source as saying that the test "successfully met" all the "critical parameters" set by the mission team and it was a "roaring" success.
The K-4 missile belongs to the K series of missiles and has a range of 3,500 kms. The missile has the ability to carry both conventional and nuclear warheads weighing over 2,000 kgs. The missile is a submarine-launched ballistic missile (SLBM) and once the tests are completed, it will boost the country's deterrent capability as it will complete the nuclear triad -- traditionally strategic bombers, intercontinental ballistic missiles (ICBMs), and SLBM -- process.
The source, which the New Indian Express report cited, offered several new details of the test, while claiming that the trail was a "copy book success," firing at a depressed trajectory.
According to the source, the missile was "successfully released from the launch tube and broke the water surface to stage separation and maintained the ballistic trajectory." It achieved "all parameters before zeroing in on the pre-designated target with high accuracy."
In the event that the DRDO confirms the developments surrounding this secretive project, it will prove to the world that India has the technology and the resources to create a SLBM, thus completing the process to have a successful and powerful nuclear triad. India adheres to its self-declared "No First Use" policy when it comes to the use of nuclear weapons.
Meanwhile, defence experts and analysts have been surprised at the DRDO's silence.
"Sure, a failed launch is best kept under wraps. But the success of what is a decisive nuclear warhead delivery system from submerged platform is something that needs to be crowed about a bit, just so everybody knows," reported the New Indian Express, citing Bharat Karnad, national security expert and professor at New Delhi-based Centre for Policy Research.