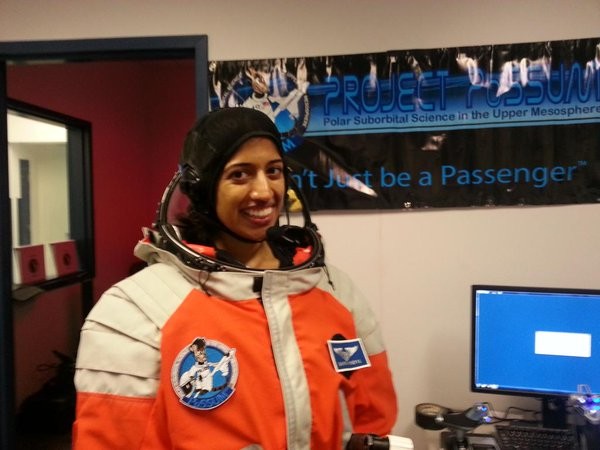 Dr Shawna Pandya, a doctor by professsion but an astronaut with aspirations, will be the third woman of Indian origin to fly to space, after Kalpana Chawla and Sunita Williams.
Sunita Williams, Expedition 33 Crewmates All Set To Descend On Earth (VIDEO)
The 32-year-old neurosurgeon, who is working as a general physician in Canada's Alberta University, was born in Canada but has her roots in Mumbai. Pandya, who is currently in Mumbai to meet her family, said she had always aspired to be an astronaut. But Pandya, who also loves medicine, is a multi-talented person as she also is an opera singer, author, international taekwondo champion and even trained in Muay Thai with a Navy SEAL.
According to Hindustan Times, Pandya was one of the two candidates to be shortlisted from 3,200 people after she topped the Citizen Science Astronaut programme. In a space mission scheduled for 2018, she will fly with eight other astronauts.
Reportedly, Pandya will do experiments in bio-medicine and medical science. She is part of a project called Polar Suborbital Science in the Upper Mesosphere, which will study the effects of climate change. She will also work on Physiological, Health, and Environmental Observations in Microgravity and is a prime crew member of Project Poseidon, a 100-day underwater mission at the Aquarius Space Research Facility in Florida.
"When I talk to students, medical undergraduates, I realise they have the zeal to venture out, but aren't always aware of the ways in which they can. All we need is to get acquainted with everyday developments in science, be resilient and always try to achieve something bigger", Pandya told HT.
"If you prioritise your passions and commitments, it's wonderful how much you can achieve," she added.
(Pandya later refuted the media reports that she had been shortlisted for a NASA programme or that she is a neurosurgeon and an opera singer. The latest report can be accessed here.)