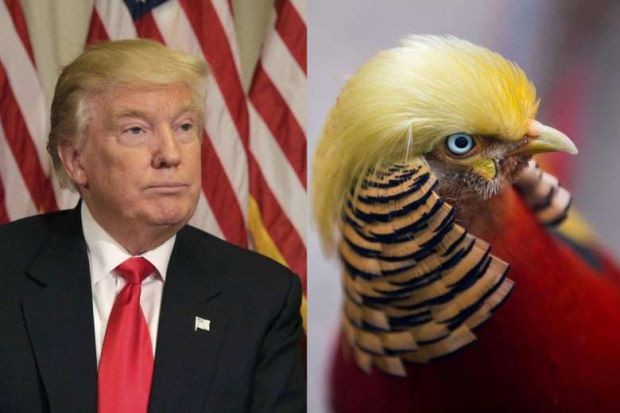 Soon after United States President-elect Donald Trump's election win, a bird in China is gaining tremendous popularity worldwide, thanks to Trump. Reports state that people are flocking to China's Hangzhou Safari Park in Zhejiang province to take a look at the bird, which looks like Donald Trump.
The bird rose to fame after people noticed an uncanny similarity between the Republican billionaire and the five-year-old male winged wonder called, Little Red. What resembles most between the two is the bird's golden crown (hair) which people think looks very similar to that of Donald Trump's infamous hairstyle.
The male bird became an international sensation soon after the pictures of the bird were widely shared on Chinese media. The pictures were originally taken by a journalist from Hangzhou who first stated the similarity between the bird and the US President-elect, according to Daily Mail, UK.
Reports state that the bird-keeper of the park, Gao, was surprised to hear of Little Red's fame and the cause of it. He although began to notice a resemblance between the two soon.
"According to Mr Gao, pheasants have thicker and brighter feathers in winter because they bring insulation, and that is why 'Little Red' has such golden feathers on his head at this time of the year," the report said. The bird is very exotic and is indigenous to the central China mountains.
Reports state that the bird has become very famous in the area and many people are swarming into the Chinese zoo to take a look at the bird whom they call the 'Trumpbird.'
Donald Trump's unusual yellow hair has made news ever since he started running for the United States presidential elections. Several memes and jokes have been made on his hair often being tagged as 'unreal'. People on social media are contemplating if Trump would buy the bird at a "really high price" or make the 'Trumpbird' the national bird of America.