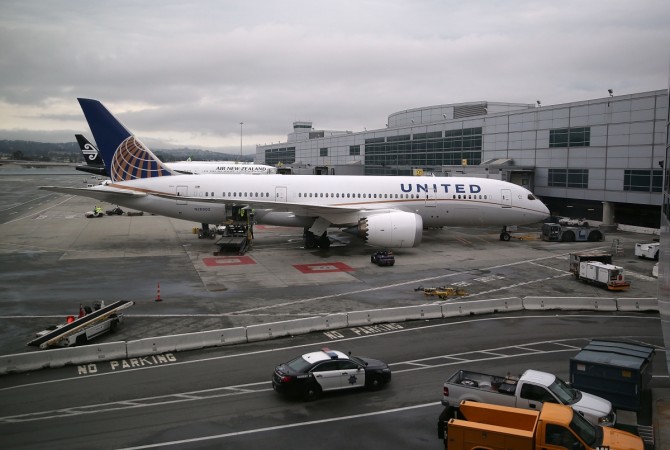 A puppy died on board a Houston-New York United Airlines flight after a flight attendant ordered its owner to stow the pet into an overhead luggage bin Monday, March 12. The airlines issued a statement taking "full responsibility" for the dog's in-flight death.
Eyewitnesses in the flight said they had heard the French bulldog barking but did not know that it had died until the flight landed at LaGuardia Airport, NBC News reported.
"This was a tragic accident that should never have occurred," the airline said in a statement, adding that it expressed its "deepest condolences to the family."
"We are thoroughly investigating what occurred to prevent this from ever happening again. Pets should never be placed in the overhead bin," the statement added. The unnamed flight attendant said that she did not know the dog was in the bag, BBC reports.
Maggie Gremminger, a co-passenger flying with the family, told travel website One Mile at a Time: "I witnessed a United flight attendant instruct a woman to put her dog carrier with a live dog in an overhead bin."
"The passenger adamantly pushed back, sharing verbally that her dog was in the bag. The flight attendant continued to ask the passenger to do it, and she eventually complied. By the end of the flight, the dog was dead. The woman was crying in the airplane aisle on the floor," she said.
Another flyer took to Facebook and shared what he witnessed. "I sat behind the family of three and thought myself lucky - who doesn't when they get to sit near a puppy? However, the flight attendants of flight UA1284 felt that the innocent animal was better off crammed inside the overhead container without air and water. They INSISTED that the puppy be locked up for three hours without any kind of airflow. They assured the safety of the family's pet so wearily, the mother agreed," June Lara wrote.
"There was no sound as we landed and opened his kennel. There was no movement as his family called his name. I held her baby as the mother attempted to resuscitate their 10-month old puppy. I cried with them three minutes later as she sobbed over his lifeless body. My heart broke with theirs as I realized he was gone," the post added.
Though the overhead locker is not air-tight, lack of oxygen may have caused the dog's death, US media reports said.