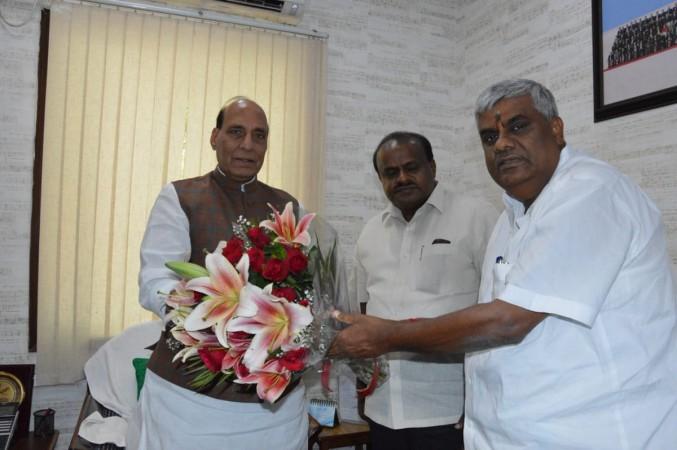 Social media has been abuzz with news that Karnataka's Public Works Department (PWD) minister HD Revanna travels 342 km every day between Bengaluru and Holenarasipura just to avoid 'bad luck'.
The official reason, however, is that the Janata Dal (Secular) minister is yet to receive an accommodation from the government in the state capital.
Several reports had claimed that Revanna had been advised by his astrologer not to spend a night at his Bengaluru residence as it might bring him 'bad luck.' Revanna, however, clarified his stance and said:
"Don't have any astrologer who has told me this. I'm waiting for a house to be allotted that's why I am traveling this distance to work every day," Revanna was quoted as saying by ANI.
One of his party members, however, agreed that Revanna was indeed following the advice of an astrologer.
"The astrologer has told Revanna that night-stay at his own residence will bring him bad luck. The advice was based on the exact time he took oath as minister in the Kumaraswamy government. Revanna is steadfastly following the advice," a source close to the minister was quoted as saying by The Times of India.
HD Revanna's daily schedule:
Revanna wakes up early morning at 5 am every day and then goes about with his religious prayers till 7 am. He later meets party functionaries and other visitors till 8 am, Bangalore Mirror reported.
Following that, he departs leaves from his house in Holenarasipura to Vidhana Soudha in Bengaluru. En route, Revanna also visits many temples and takes breakfast at Mayura Hotel near Bellur Cross, Nagamangala.
Revanna, after work, usually visits his parents and sisters residing in Bengaluru. He leaves the state capital by 8.30 pm and reaches Holenarasipura around 11 pm, the daily reported.