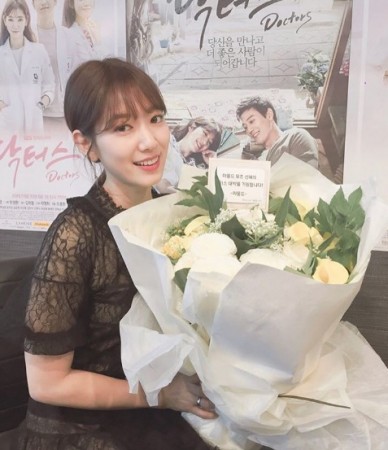 The sizzling chemistry between Park Shin Hye and Kim Rae Won in Korean medical drama "Doctors" has led many to believe that the duo is dating in real life too.
Park Shin Hye and Kim Rae Won essayed Yoo Hye Jung and Hong Ji Hong respectively and one of the main factors for the popularity of "Doctors" was the chemistry of the lead stars. While they looked great on-screen, there seems to be nothing brewing between the two in real life.
During a recent press event for the show, Kim Rae Won praised his co-star for their on-screen attraction. "We cannot but have good chemistry because she really cares about an actor who plays the opposite role," the 35-year-old actor said, reported Inquisitr. "There are actors who care only about their roles. But in this drama, Shin Hye and I were all open to each other and thus had no other option but to show good chemistry," he added.
Shooting down the possibility of a romance between him and the 26-year-old Park Shin Hye, Kim Rae Won said he was like an elder brother to all his junior co-stars. "Park and other junior actors rather felt comfortable with me and treated me like their brother who is a few years older than them," Kim Rae Won said.
In other news, fans of the medical drama have taken to social media urging the network as well as the makers of the show to come up with a sequel to "Doctors." But it looks like Park Shin Hye does not want to be a part of the project if it materializes. Reportedly, she wants to explore other opportunities. The actress has already signed on to be a part of legal thriller "Silent Witness," which is the Korean remake of a Chinese film.