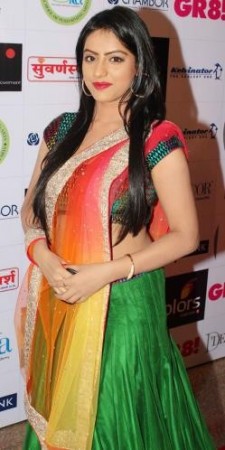 Star Plus hit show "Diya Aur Baati Hum" has taken a few years' leap and is currently focusing on the children of the Rathi family.
Sandhya (aka Deepika Singh), an IPS officer, has returned to her family after serving in a different city for several years, and is now having a tough time dealing with her son Ved's tantrums.
However, the show with never ending problems, has managed to keep its viewers tuned in with yet another surprising twist.
In the latest development, Sandhya and Suraj (Anas Rashid) who have lost their other son (twin) Vansh, surprisingly find out that their son is still alive.
They came across their lost son, while admitting Ved to an international school where Vansh studies.
Sandhya, who had handed over Vansh to her brother Ankur for adoption soon after birth, is happy to find out that her son is alive and is very much with Ankur's family.
Ankur then reveals that after Vansh went missing, he broke all ties with the Rathi family as he believed that apart from Sandhya and Suraj, no one was happy to hand over their child to him.
Further, Ankur was annoyed that Bhabo (Sandhya's mother-in-law) would often blame them for not taking a good care of her grandson.
Later, when Ankur found that their adopted son Vansh was alive, he didn't inform the Rathi family including Sandhya as he was under the belief that Sandhya didn't bother to save Vansh from the kidnappers as she had already handed over her child to Ankur.
Overjoyed to see their son, Sandhya and Suraj then promise Ankur and Ankita not to reveal the truth to their family.
It now remains to be seen if Sandhya and Suraj succeed in keeping the Rathi family in the dark about their missing grandson.