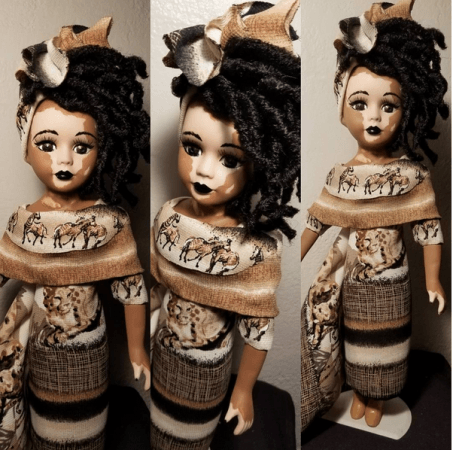 Gone are the days of one-size-fits-all Barbies. An artist known as Kay Black is bringing a change in the industry for good. She has created a range of dolls with realistic features to show how diversity is beautiful.
Kay has been creating dolls with realistic features like natural hair, braids, knots, twists, dreadlocks as well as male dolls with thick beards for quite some time. But recently in September, she started showcasing custom dolls with skin conditions such as vitiligo and albinism on her Instagram account, Kay Customs.
Her first doll with the skin condition was portrayed in September 2017 and she called it 'Vitiligo Baby' on her Instagram account. Kay has been continuing with her vitiligo range dolls since then and is even taking requests from parents of vitiligo children.
The dolls' aim is to teach kids that beauty comes in different shades. Kay says that her inspiration for these unique handmade porcelain dolls came from people around her.
Black told PEOPLE: "I'm motivated by everyday people I see walking up and down the streets." Her fans are absolutely loving her dolls and she says that people are 'literally in tears' when they receive the dolls.
She adds: "I want to create dolls everyone can relate to." These unique dolls have also caught the attention of celebrities such as Tia Mowry and Mike Epps. Black wrote on Instagram: "When Mike Epps shares your work I think it is safe to say this doll went viral!!"
According to Metro.co.uk, Kay currently sells her items over on Square Up and takes up requests for the vitiligo dolls through her Instagram account. The exact prices of the dolls haven't been listed yet. However, the previous dolls on Square Up show can be priced from $60 – $100.