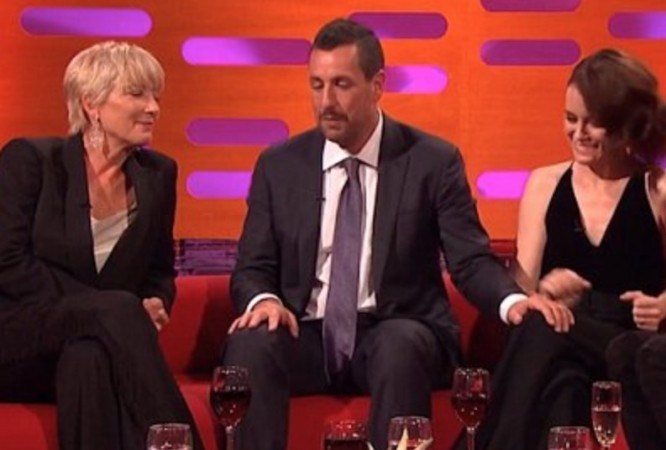 Actor Adam Sandler faced a massive backlash on Twitter after he was seen touching actress Claire Foy's knee during this week's episode of The Graham Norton Show on BBC One.
Also read: 'He shoved me onto the bed': Sopranos actress on how Weinstein RAPED her
His "inappropriate behaviour" towards The Crown actress made her visibly "uncomfortable" as she was seen gently pushing Sandler's hand from her thigh while the chat session was on.
The Billy Madison actor's behaviour left the viewers annoyed and shocked and one viewer wrote on Twitter: "Did I just see #ClaireFoy looking a little distressed at #AdamSandlers hands all over her knees?"
Some reports even claimed that the 33-year-old actress, who portrays a young Queen Elizabeth in the popular Netflix show, appeared to squirm at one point of time.
However, Sandler's representatives have since described the action as "a friendly gesture" and said he made a similar gesture to Dustin Hoffman on the Jimmy Fallon Show earlier this month.
The Happy Gilmore actor was later seen acting similarly with another guest actress Emma Thompson, who recently co-starred with him in the Netflix film The Meyerowitz Stories.
Meanwhile, according to a recent report by Metro UK, Foy has defended Sandler and her spokesperson told the site, "We don't believe anything was meant by Adam's gesture and no offence was caused to Claire."
Here's what the Twitterati is saying—
Claire Foy replacing Adam Sandler's hand onto his own knee rather than hers, was the perfect "haha dont touch me again" move #GrahamNorton

— Gwyneth Jane (@gwynethjane_) October 27, 2017