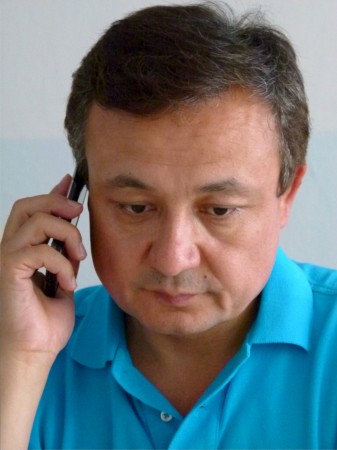 Dolkun Isa, a dissident Chinese leader in exile, reportedly said on Sunday that India had without any explanation cancelled a visa it had issued to him earlier in April to attend a conference in Himachal Pradesh's Dharamsala city. Sources in the Ministry of Home Affairs confirmed as much to the Hindu.
Isa's visa was cancelled because he had applied for and received Electronic Tourist Visa, which is not an appropriate category to seek a visa for public meetings, sources told the daily. The Indian government would issue a fresh visa if Isa applied for one under an appropriate category.
"I really wanted to visit India. But I received an email on Saturday informing that my visa which was issued on April 6 has been cancelled. No explanations were given. No Indian official called me personally to convey this decision. It's a very sad situation for us," Isa told the Hindu over the phone from Berlin.
China had criticised India's decision to grant visa to the Germany-based Uyghur activist, against whom Interpol had earlier issued a red corner notice. The World Uyghur Congress' (WUC) executive committee chairman wanted to visit India to attend the annual Interethnic Interfaith Leadership Conference on April 30 and May 1.
"Following numerous [media] reports, Indian authorities then proceeded to rescind the visa on April 23, 2016. I recognise and understand the difficult position that the Indian government found itself, and regrets that my trip has generated such unwarranted controversy," Isa was quoted by the Indian Express as saying in a statement.
"Finally, I would like to thank the Indian people for their determined solidarity and commitment to rights activists like myself who wish to continue to develop and support dialogue among peoples of all faiths and ethnic backgrounds. I remain disappointed with the final decision, but I am hopeful that positive steps may be taken to maintain India's relationship with the Uyghur community," it read.
The Chinese government reportedly recognises Isa as a "terrorist" and the WUC as a separatist organisation for indulging in violence in Xinjiang, India Today reported. China suspects Isa was involved in bombings in Muslim-majority region of Xinjiang in the 1990s.
"Dolkun Isa is a terrorist on red notice of Interpol and the Chinese police. Bringing him to justice is a due obligation of relevant countries," India Today had quoted the Chinese foreign ministry as saying.
Media reports after India issued the visa to Isa suggested the decision was taken in retaliation to China vetoing the Indian government's attempt at the United Nations to list Jaish-e-Mohammed chief Masood Azhar as a terrorist.