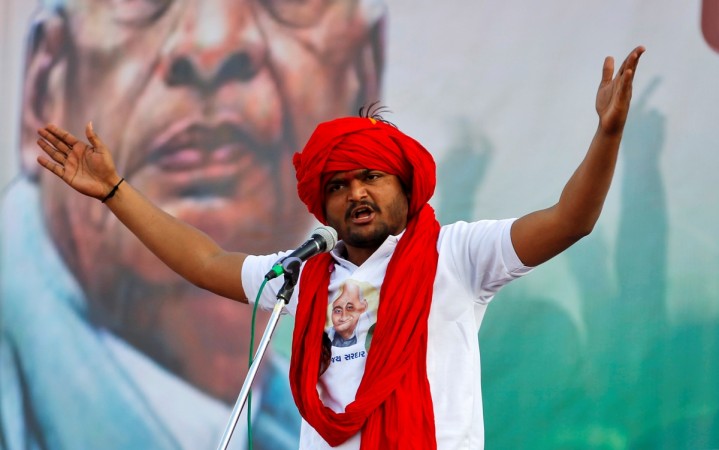 Days after the Patidar Anamat Andolan Samiti (PAAS) chief, Hardik Patel raised apprehensions that the BJP may release a fake sex CD to defame him ahead of Gujarat polls 2017, a video has emerged on social media platforms, on Monday, November 13. The video shows a man resembling the young leader of the Patel agitation and a woman in a compromising situation in a hotel room.
"The BJP has prepared a doctored sex CD to defame me and it will be released just before the election. What else can one expect from the BJP? So just wait, watch and enjoy," Hardik had said earlier.
The Patel leader has been in talks with Congress Vice President Rahul Gandhi over reserving a quota for his community under Other Backward Castes (OBC) in Gujarat, in return the Patel Samiti has reportedly promised its support to Congress in 2017 Gujarat polls.
"Ab gandi rajneeti shuru hogai hai, mujhe badnaam karlo, kuch farak nahi padega. Lekin Gujarat ki mahilaaon ka apmaan kiya ja raha hai (The dirty politics has begun, I will not be intimidated by the defaming attempts, but the women of Gujarat are being defamed)," Hardik said in a tweet.
Hardik was reportedly in a core committee meeting of PAAS in Gujarat's Gandhinagar when the video went viral. "I have said earlier too that such allegations are going to be made. Our core committee was meeting today to decide on Congress's proposals offering reservation to Patidars. This is just the beginning," he told the reporters after he came out of the meeting.
"This is election time. Our agitation is going strong. Winds of changes are sweeping Gujarat, and such allegations will be made," Patel added.
The PAAS chief alleged that the video was created in Bangkok, and he said he was planning to take necessary legal steps. He also mentioned that he would continue to speak for the Patidars in the state, and will not be cowed down by such attempts of defamation.
Reacting to the video which has gone viral, BJP leader, Prakash Javadekar said, "This is violation of the right to privacy. He is single, unmarried and has the right to have his personal space. Unless he is forcing himself on any woman, he can't be attacked."
A similar video had surfaced social media in 2015, showing a man with resemblance of Hardik Patel. However it wasn't proved even then, that the man in the viral video was Hardik. The Patidar agitation leader had then rubbished it as a forged one and an attempt to malign his image.