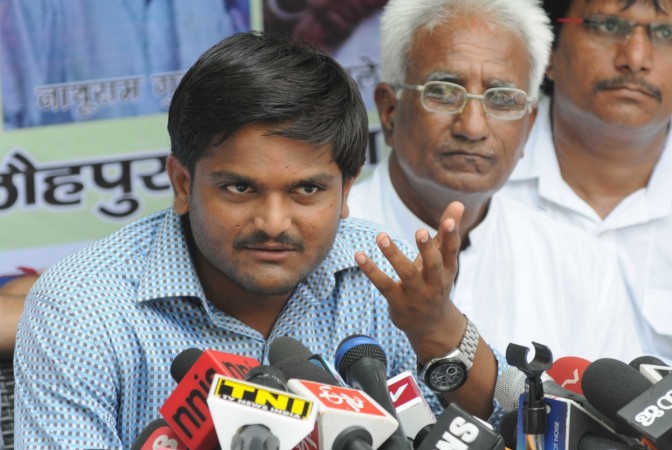 As the state of Gujarat gears up to go to polls from December 9 to 18, rumours and allegations have been making news on a regular basis. The latest allegation comes from Patidar quota agitation leader Hardik Patel, who, on Friday, November 3, said that the Bharatiya Janata Party may release a sex tape ahead of the polls with an aim to defame him.
"The BJP has prepared a doctored sex CD to defame me and it will be released just before the election. What else can one expect from the BJP? So just wait, watch and enjoy," the Times of India quoted Patel as saying.
"This is typical of the BJP," he added when he was asked how he knew about the CD and what BJP intended to do. The BJP is yet to comment on Patel's allegation.
Meanwhile, speaking of the upcoming polls, the Patidar quota agitation leader also said that the EVMs and Voter Verifiable Paper Audit Trail used during the elections may be defective as BJP would try to manipulate the votes in its favour.
He spoke about the EVMs and BJP through a tweet and said that 3,550 VVPAT have already failed the authenticity tests. However, Election Commissioner O P Rawat hit back at Patel and said that the failure rate in the first level of checks was just about 3-4 percent.
चुनाव आयोग के पहले लेवल टेस्‍ट में ही 3550 VVPAT मशीनें फेल हुईं,में दावे के साथ कह सकता हूँ कि भाजपा गोलमाल करके ही अब चुनाव लड़ेगी ।।

— Hardik Patel (@HardikPatel_) November 3, 2017
"With a total 70,000 VVPAT-enabled EVMs deployed by EC for Gujarat polls, this translates to a failure rate of 5%. The slightly higher failure rate may be explained by first-time handling of the VVPAT-enabled EVMs by the staff," he explained.
But Patel remained adamant on his point and even warned that BJP may try to create communal tensions in Gujarat before the polls.
Meanwhile, both BJP and Congress have been trying to garner Patel's support for a while now. He had earlier asked the Congress to make its point clear when it came to reservation for the Patidar community and had said that he was ready to support the party if the community's demands regarding reservation in education and jobs were fulfilled.
Just a few days ago, he had said that he had asked the members of his community to vote the BJP out of power in Gujarat. "I have been telling my community that they have to vote the BJP out of power. The community is directly supporting the fall of the BJP," he told NDTV.
While with this statement it looks like he was pledging his support to the Congress, Patel is yet to officially declare his support to a particular party.