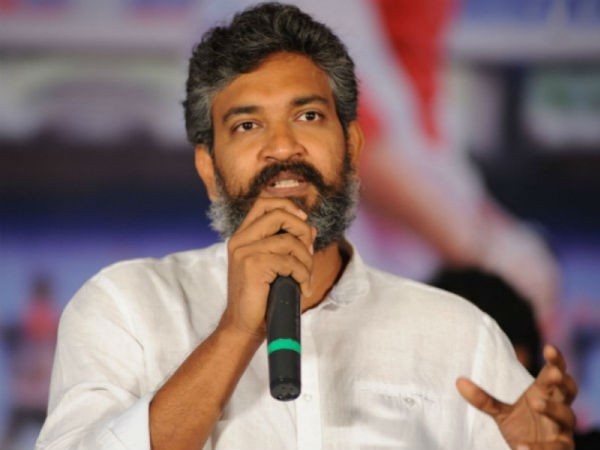 Director SS Rajamouli, who is busy promoting Baahubali 2: The Conclusion, is all praise for Prabhas and says that if there was no (Prabhas) the rebel star, there would not have been the movie Baahubali.
In an exclusive interview to International Business Times India, SS Rajamouli spoke about various aspects related to Baahubali 2, which is scheduled to be released in the theatres around the world on April 28. Here are the excerpts of SS Rajamouli's interview to IBTimes India.
1 How is Baahubali 2 different from Baahubali: The Beginning?
We introduced characters in the Beginning. We just showed the audience the taste of what's going to come next and all the drama between the super strong characters will be shown in the second part. The conclusion is bigger and better than The Beginning, in terms on drama, emotions, action and grandeur.
2 It was rumoured that the film unit has shot four different climaxes for Baahubali 2. What would you like to say about it?
No...we did only one version. That is what you are all going to watch.
3 Prabhas has not done any film after Baahubali, while other actors starred in few films. What would you like to say about his dedication?
If there was no Prabhas, there's no Baahubali...Prabhas was more confident about this project more than me and the producers. Baahubali would not have taken off if Prabhas would not give us 4 years of his time. He always used to boost up our entire team by saying we were making an international film.
4 What would you like to say about other cast and crew?
Along with Prabhas, I should thank Rana, Anushka and Tamannaah for their commitment and being a part of Baahubali. It's always a pleasure to work with senior actors like Nasser, Satyaraj and Ramya Krishna. Truly, the characters of Baahubali would never have turned out that magnetic if it was not the same actors who played their role.
5 What was the toughest thing in making Baahubali?
Can't say one.. Making Baahubali itself was the toughest thing as none of us in our team had any idea of making a film on this scale before we actually started out on Baahubali.
6 Tell us something about the shooting and post production works of Baahubali 2?
We finished 40% of Part 2 shoot along with part 1 in 2013. We restarted it in mid-December 2015 and finished this year in January 1st week. We started post-production along with the shoot. Dubbing, re-recording done. Almost 90 % of final copy got ready. Glad there's no delay in getting CG shots.
7 You started with the idea of having Baahubali as one movie, but ended up having two parts. You have also gone on to expand the Baahubali world through comic book, novel and 360-degree VR experience etc. How did all these happen?
My producer Shobu is very ambitious in expanding the film to wherever possible in the world and in the best possible form. Baahubali film series may end but the world of Baahubali will continue forever.
8 What are your box office expectations for Baahubali 2?
We didn't expect the massive box office success of Part 1. No one can judge which film does great or which one does not. We worked hard to reach audience expectations and all we expect is the film should be a profitable one for everyone.
9 What are precautions taken to stop the piracy of Baahubali 2?
Our Producers are taking care of this. We are working with a special team to monitor piracy links every minute. We will try our best to control.
10 Having created a milestone, how different/difficult will your life be after Baahubali film series?
Hahaha. Even I don't know. And today its Baahubali, tomorrow may be another film. But I want to do as many films as I can. Need to speed up.