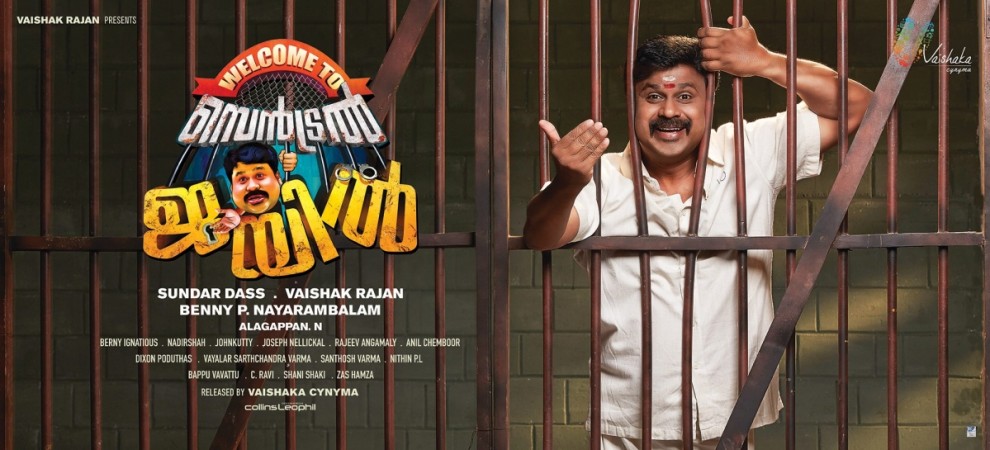 Malayalam star Dileep's latest movie "Welcome to Central Jail" was released in 89 screens in Kerala on Saturday, Sept. 10. The comedy entertainer, helmed by Sundar Dass, stars Vedhika in the female lead role.
The movie marks the reunion of Dileep and Sundar Dass after a gap of 13 years. As the actor-director duo has delivered some hits -- "Sallapam," "Kudamaattam" and "Kuberan" -- in the past, the audience have high expectations from "Welcome to Central Jail" as well. The latest movie, which narrates the incidents that happen in the life of a few prisoners in Poojappura central jail in Thiruvanathapuram, is expected to create a laugh riot in theatres like most Dileep-starrers. The trailer and songs of "Welcome to Central Jail" have already impressed the audience. Watch WTCJ trailer
Also check "Oozham" live review | "Oppam" audience review | "KPAC review by audience
"Welcome to Central Jail," which went on floors in Kochi on April 2, has been scripted by Benny P Nayarambalam and stars Renji Panicker, Suraj Venjaramoodu, Aju Varghese, Sharafudheen, Kalabhavan Hareesh, Siddique, Thesni Khan, Kalabhavan Shajon, Veena Nair, Kailash, Dharmajan Bolgatty, Kottayam Pradeep and Guinness Pakru in significant roles.
The Dileep-starrer locks horns with other Onam releases including Mohanlal's "Oppam," Prithviraj Sukumaran's "Oozham," and Kunchacko Boban's "Kochavva Paulo Ayyappa Coelho" at the Kerala box office.
Check out the audiences' response to Dileep's "Welcome to Central Jail" here:
Nivin Dq
Welcome To Central Jail
First Half Completed
100% Entertainment Guaranteed
Chirch Chaavum
Dileep <3
Sharafudheen <3
First half with lots of fun and waiting for second half
Status 90%
Sumesh V Sukumaran
Welcome To Central Jail -With a Mix of Good and Bad Comedies , This Festival Entertainer From Dileep - Benny P Nayarambalam - Sunder das Team is a Passable Movie. In spite of having a Very big star cast from the Humor Team of Malayalam Cinema , the movie fails to be a Laugh Riot which we all expect to be , after watching the trailer. This one lacks a Good story line and the songs were horrible . Only very few scenes will make you laugh. The actors did their job well especially Renji Panicker. Rating : 2/5 Found " King Liar " Better than this one :)
Sree Kanth
Speaking 4 myself,itzz a mediocre entertainer , though nt too bad. At best i would be rated it 2. 5/5. COMEDY-- is the main cynosure. all of dileepettan's comic timingzz,girirajan kozhi's counters,situational humour etc are enjoyable 2 a certain xtent..
a considerable amount of 'chali' jokes are there in the first half but not worth considering in the 2nd half.
1 thing I can promise most of them are not non veg homour, so safe to watch with family members
STORYLINE-- has, to be honest, nothing to boast about --The same old wine.overall a just watchable 'onapadam'
Urfriendvinu Itv
Welcome to Central Jail
First half
Typical Dileep entertainer with good comedies, chalus, slapstic .....
Second half and climax interesting aayaal Onam Cup Dileep edukkum.
Typical Dileep Entertainer with a good climax
Festival entertainer package
Santhiya sam ‏
@Vedhika4u once again proved herself by her performance OMG watta look i her acting was amazing vedhika mam .#welcome to central jail
аshwiи ‏
I saw #welcome to central jail vedhika mam u lookis gorgeous in the movie 100% family movie☺am sure it will be the onam winner..@Vedhika4u
Rahul Mohan
Below Average First Half
Malayalam Review
Below Average First Half Poor Comedies & Low Standard Making. Slightly Better 2nd Half Usual Dileep Comedy Entertainer Predictable Story & Below Avg Direction. Comedies are Really Outdated. Dileep & Vedhika Done a Decent Perfo. Bo Verdict Depends On Family Audience. Anyway Not Recommended. 2.25/5
Jay Menon
Movie no 5 : welcome to central jail... Started with lots of promise.. First half did have lots of hilarious moments...second half was kinda boringly melodramatic... Average movie... 2 stars !!!
-