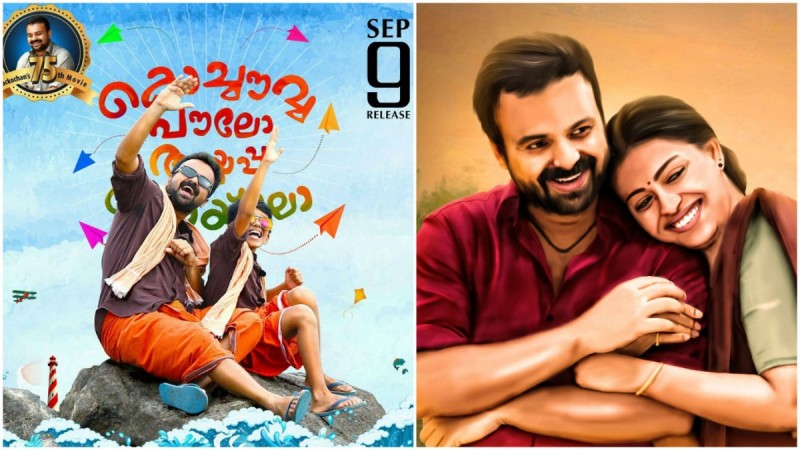 "Kochavva Paulo Ayyappa Coelho" (KPAC), the Malayalam family entertainer starring Kunchacko Boban and Master Rudraksh Sudeesh in the title roles, was released in 80 screens in Kerala on Friday, Sept. 9.
The Sidhartha Siva-directed movie narrates the story of Kochavva and Ayyappa, who are influenced by the "The Alchemist," the book by famous author Paulo Coelho, which has been translated into at least 80 languages. The movie recently got international recognition after Paulo Coelho shared the first-look poster of the film on his Twitter handle.
Check Oppam live review | Oozham live review
"KPAC," which marks the comeback of the production house Udaya Studios after 30 years, stars Maniyanpilla Raju, Mukesh, Aju Varghese, Nedumudi Venu, Suraj Venjaramood, Sudheesh, Muthumani and KPAC Lalitha in significant roles. The teaser as well as the songs of the movie have already impressed the audience.
The Kunchacko Boban-starrrer has been pitted against the Onam releases, including Mohanlal's crime thriller, "Oppam," and Prithviraj Sukumaran's revenge thriller, "Oozham," at the Kerala box office. Dileep's comedy entertainer, "Welcome to Central Jail" and director Jude Anthony Joseph's family entertainer, "Oru Muthassi Gadha" are scheduled to hit the screens in Kerala on Sept. 10 and Sept. 15, respectively.
Check the audience response here:
Thomas Kottackakom
Memorable come back from Udaya Productions!!!
Yet another classy movie magic from Sidhu Sidhartha Siva!!
It's a great news to family audience!! Kids are going to rock their Onam Vacation with KPAC!!!
KPAC makes a take off to the heights of the expectations of the spectators and land up in the hearts of thousands who love good films!
Ajish T A
Kochavva Paulo Ayyappa Coelho opening show finished. No words to say, Amazing.detailed review update soon My rating : 4/5.
Justin James
Life changes when someone you care is always with you
Jithin Jose
Don't under estimate power of udaya......
Kochavva Paulo Ayyappa Coelho superrrbbbbbbb don't miss it
3.75/5
Aan Malikapurackal
Kochavva Paulo Ayyappa Coelho....a comeback of real malayalam cinema
Malayaalithamulla....nanmayulla...malayala cinemayude thirichu varavine....Namukku aaghoshikkam..
-
Robinhood
Udhaya pictures nte thirichu varavu...Chakkochantem...Ayyappadas enna oru kuttiyiloodeyanu kadha pokunnathu....Avante ettavum valiya aagraham plane lu keranam ennanu...Ellarkkum nanma cheyyunna oru character aayi chakkochan ethunnu...First half lu kaaryamaya role illa..Totally eduthal padam an ok first half and kidu 2nd half um..Performance eduthal ayyappadas enna kochu kuttiyayi nadan sudheesh nte makan rudraksh sudheesh thakarthu....kochavvo aayi chakkochanum nannayi...Songs ellam kollayirunnu....Nice visuals...Story simple story okke thanne aanu...Bt nannayi present cheythittundu...Ee onathinu familyodappam ticket edukkavunna nalloru kochu chithram...Mattu onam releasukalkkidayil mungi pokathirikkatte...5 lu oru 3 to 3.5 kodukkam rating... BO : Family keriyal rakshapedum...Mass masala entertainer pratheekshich aarum pokanda...Nalloru kochu chithram pratheekshichu pokuka...For me among onam rls KPAC > Oppam > Oozam
Moovipedia
#KPAC happening now! First half not up to the average level! Expecting a good second half
Urfriendvinu Itv
KPAC
First half, jet speed narration, oru cherukadha vaayikkunna sukham, pre interval 15-20 min alpam lag undu. Overall neat first half
-