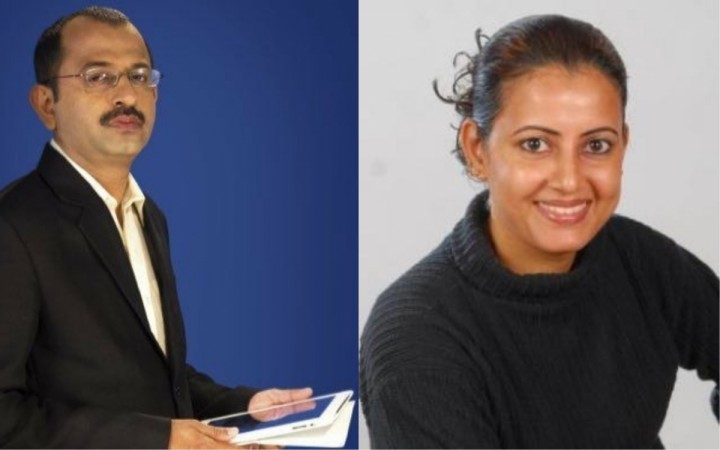 Ever since a South Indian actress was abducted near Athani in Angamaly, Kerala, Malayalam news channels and other media outlets have been "celebrating" the big news in an attempt to get more TRP, thanks to the immense curiosity of the audience in knowing all the latest updates related to the case.
Also check: When Bhagyalakshmi reacted to Anitha Nair's abusive rant against Asianet News anchor [VIDEO]
After popular actor Dileep was arrested by Kerala Police over his alleged involvement in the sensational case, the Janapriyanayakan has now become the only topic of discussion for media. Even for prime time debate shows in news channels, people discuss only on the abducted actress and the leading actor.
Read more: Celebs react to Dileep's arrest
However, it looks like a few news readers are intentionally trying to target the accused, and the media trials have now become unbearable with many viewers expressing their disappointment in following news channels these days. A few news readers are also calling Dileep as a criminal despite the actor still denying his involvement. One such popular news reader, who now seems to be garnering immense negative response from the audience, is Vinu V John, who works with Asianet News.
Check: No bail for Dileep; actor sent back to Aluva sub-jail
After many hate comments, now Malayalam serial and cinema actress Anitha Nair has also come forward with her video message to give a befitting reply to Vinu for the way in which he twists and sensationalises the case.
Check: South Indian actress kidnap case timeline
Here's Anitha's response

Aren't you ashamed? Try to do your work sincerly. Don't say nonsense to increase the TRP of Asianet. Try to understand that the ones watching it are not fools. What has Dileepettan done to you? I admit that if he is found guilty, he should suffer and get punished. But please give him time until the court pronouces so. That actress, who got assualted, has also never mentioned Dileepettan's name, then why are you so bothered as if he raped someone in your family. Go and spend some quality time with your family, else your wife might elope with someone else soon. Do you have the guts to speak about Dileepettan in front of people in a crowd?

There are a lot of other news that must be given more importance, like nurses strike. Why don't you work so that they get justice. You even twisted the statements of Dileepettan. Why don't you just die in a hole? People are hating you every moment. Is this how to improve the TRP of Asianet? You are just a news reader, you speak as if you have enough evidence against the actor. People should not insult others like this.
Here are some other reactions on social media.
"In Vinu's case, he is just sensationalising the news. He is misinterpreting and twisting the statements. He should stop this utter nonsense. I used to watch the news every day after work. Now, I totally hate watching it, especially the programmes by Vinu and Venu [another news reader in Reporter channel], as they are just trying to target Dileep. It is very evident from the way they talk. Let the court decide if Dileep is guilty, not these news readers!" stated 27-year-old engineer Sadheerth Nair.
Rahul Ram
Vinu V John..of Asianet news,the worst and ridiculous idiotic news reader I have ever seen...and hat's off to Aiyyappadas of Manorama News who deserves respect to his approach towards the sensational coverage...
Nikhil Chittath
Salute u mam for dis adorable words... Dis not only for vinu(asianet)... But dis warning is for other medias too... Shani (manorama). Venu(reporter) etc... .... as this respected lady said in this..please go and support NURSES who r on strike for der needs... Dont act like jerks you medias!!!! People r not dump heads you ******
Meanwhile, news channels are also busy on giving "major" updates related to Dileep's stay in prison.
What was Dileep's breakfast? Did he watch any movie on Sunday with other jail inmates? Why he missed the chance to eat mutton in jail? How did he sleep inside the cell? Could he sleep well? Was there mosquitoes?

You might not be bothered about the actor's whereabouts in jail, but many news channels and websites are totally behind him.
Watch the viral video here: