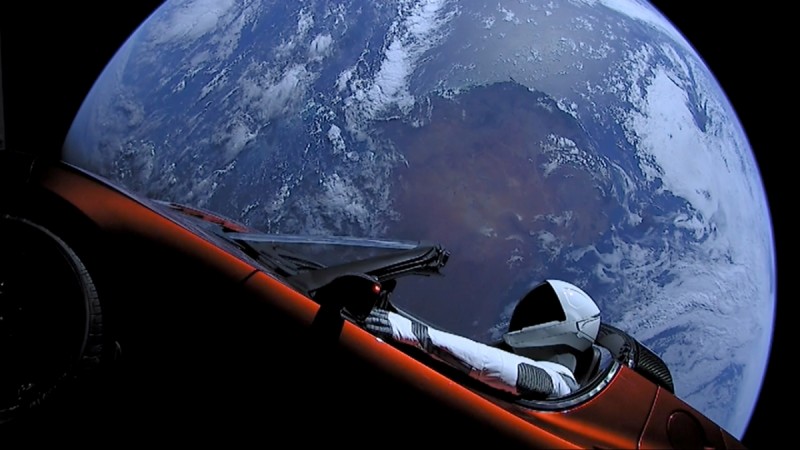 Elon Musk, technology entrepreneur and SpaceX founder, seemed to have overlooked one thing when he sent Tesla Roadster into space last month: sterilizing the electric sports car.
The car sent via SpaceX's Falcon Heavy rocket reportedly did not follow the National Aeronautics and Space Agency's (NASA) guidelines, according to which a spacecraft destined to land on another planet needs to be sterilized to avoid contamination of other worlds with bacteria from Earth.
Elon Musk drove the Tesla Roadster prior sending it into space and reports claim it was not sterilized. Now scientists fear that the car could contaminate Mars.
"If there is an indigenous Mars biota, it's at risk of being contaminated by terrestrial life," Jay Melosh, professor of Earth, Atmospheric, and Planetary Sciences at Purdue University, said in a statement. "Would Earth's organisms be better adapted, take over Mars and contaminate it so we don't know what indigenous Mars was like, or would they be not as well adapted as the Martian organisms? We don't know," he added.
Tesla Roadster was not intended to land on Mars or any planet for that matter, which could be the reason for not sterilizing before takeoff, but it will cross Mars' orbit, making some people believe that it could land on the red planet, though there is little possibility for that to happen.
Some experts are of the opinion that the Tesla Roadster and the mannequin driver will be destroyed by cosmic radiation within a year. Scientists at Purdue University has described space as inhospitable for living organisms because of "extreme temperatures, low pressure and unfiltered cosmic radiation" but argued that it "doesn't always kill them" as some bacteria can go dormant in the vacuum of space and come back to life when conditions are appropriate.
"Even if they radiated the outside, the engine would be dirty," Melosh said. "Cars aren't assembled clean. And even then, there's a big difference between clean and sterile."
Alina Alexeenko, a professor of aeronautics and astronautics at Purdue, said that "the load of bacteria on the Tesla could be considered a biothreat, or a backup copy of life on Earth."
Astrobiologist Lisa Pratt, who was named NASA's planetary protection officer earlier this year, has also expressed her concern over sending a sports car to space.
"We have to figure out how to work closely, how to move forward in a collaborative posture so we don't have another red Roadster up there in orbit," Pratt told NASA scientists, according to Space News.