Millions of combat sports fans got lucky enough as they watched the lavish pay-per-view fight between Floyd Mayweather and Conor McGregor on Saturday, absolutely FREE OF COST. Illegal live streams were made available, thanks to Facebook Live, Twitter's Periscope and even Instagram Live.
Now, those who took all the pain to make the video available for the fans and tried their hand in helping the society, here comes a bad news. You could be facing the music now.
Certain mystery codes appeared during the broadcast of the fight, especially when the camera was turned to the crowd sitting on each corner of the T-Mobile Arena in Las Vegas on August 26.
Now, these watermarked mystery codes -- a combination of letters and numbers -- could have been used by the main broadcaster (Sky Box Office in the UK is referenced here) as the means to track and crackdown on the illegally-shared streams, according to TorrentFreak.
It's certainly possible that the sequence of numbers would allow Sky to track the illicit stream back to a subscriber and/or a set-top box tied to a particular account. Since that subscriber has then re-streamed that content back online illegally, the code would act as a homing beacon and could spell bad news for the individual involved.

The other possibility is that the codes were not put there by Sky or another official broadcaster in the chain, but by someone in the illicit streaming market. Pirate streams are vulnerable to being 'stolen' in much the same way that official streams are, so it's possible that a provider wanted to keep tabs on where its streams were ending up.

The big question is why, with all the sophisticated technology available in 2017, were the watermark codes so visible? It's possible to track content pretty much invisibly these days, so this overt display isn't really necessary, if it was put there by professionals, that is.

- TorrentFreak's take on the incident.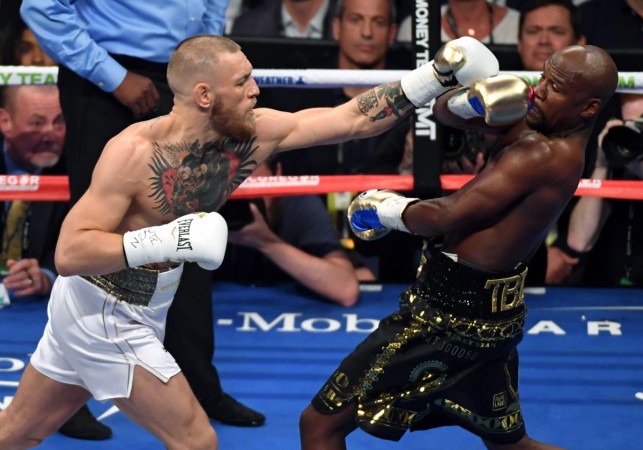 Floyd Mayweather and Conor McGregor may be enjoying their family life after lots of partying and getting boosted by fat paychecks, but the common people, who made those illegal streams available, may have gotten a warning.
news.com.au reports that two Australian men faced fines of up to $60,000 (£37,000) or five years jail for streaming the boxing fight between Anthony Mundine and Danny Green in February 2017 on Facebook Live. Fortunately, the duo were let off with a warning after they publicly posted an apology on Facebook.
"Illegal streaming and file sharing of any kind impacts not only the viability of the entire content industry, but also the thousands of people employed by it, including athletes, actors, technicians, editors, caterers, set designers and more, who depend on copyright laws being respected in order to protect their livelihood," mentions a Foxtel spokesman.
"In addition, if revenue opportunities are undermined sports fans will suffer as sports presenters and promoters will have difficulty affording the costs of staging these fights and other events."