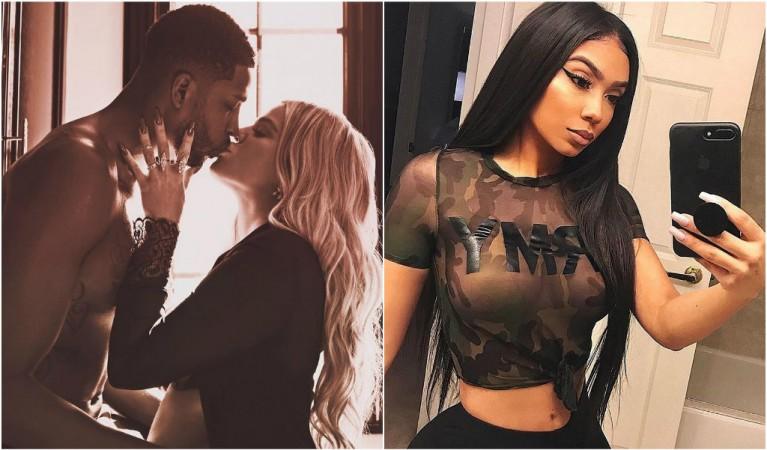 Tristan Thompson seems to be following quite the pattern when it comes to his relationships. The NBA star was spotted cozying up with a mystery woman over the weekend – something that sparked rumors that he's probably cheating on his pregnant girlfriend, Khloe Kardashian. And now, the mysterious 'curvy Instagram model' he was spotted with, is speculated to be Lani Blair.
Not much is known about Lani, except that the model is 28-years-old and her very popular Instagram – that she has reportedly put on private since the rumors came out – boasts of over 363K followers.
As per Daily Mail's reports, Lani also works as a bartender at a strip club in Queens.
However, there is still no official confirmation from either of the parties involved, except photos and videos from the night showing Tristan, 27, with a mysterious brunette, who could possibly be Lani. The two were seen entering a Manhattan, New York hotel together over the weekend.
According to multiple reports, the woman spent about four hours in the baller's hotel, where he was staying with his fellow Cleveland Cavalier teammates. The duo then left for a party at SoHo house – a place where only membership entry is allowed. The two then returned back to the hotel at around 5 am.
Later at 8 pm, the same day, the woman was seen exiting the hotel in the same outfit she had come in and was also holding a Louis Vuitton overnight bag, as can be seen from the videos that have surfaced.
Another footage from the same day, also shows Tristan cozying up with his mystery woman – which is what lead to the cheating rumors circulating all over media as Tristan is currently dating Khloe Kardashian, 36, who is also expecting the couple's first child – a baby girl – due any day now.
And this sort of arrives as a déjà vu moment for the basketball player because this isn't the first time he's been caught in the act of going out with another woman, while his baby-mama was yet to give birth.
Tristan's ex, Jordan Craig, was still pregnant with their son Prince Oliver when rumors of him cheating on her with Khloe had surfaced the Internet. Shortly after, Tristan and Khloe started dating officially.
But even though the water has seemingly gone under the bridge between the trio now, as is clear from Jordan weighing in on the current rumors with positive thoughts about Khloe, social media congratulated her on how she "dodged a bullet" and "had the last laugh".
As for Khloe herself, the successful reality-TV-star-turned-businesswoman is yet to address the videos or rumors. She's currently nine months pregnant with her first child – clearly an awful timing for news like this to break out!