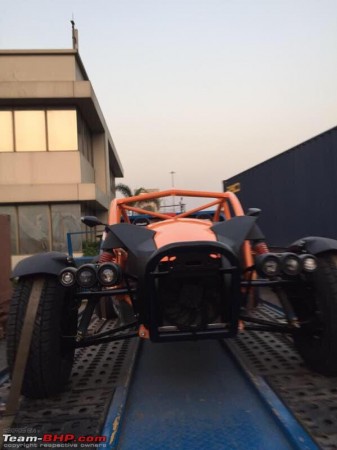 Ariel Motor Company Ltd is not a familiar name in India. The British manufacturer is also not a big name in the world automobile industry. However, the company launched an exoskeleton car in 2000 named Atom. The road-legal high-performance sports car gave the company an identity. It has also launched another car with visible external frame in 2015 named Nomad. It looks like one of the Nomad units has also reached India.
Also read: One of the 500 Ferrari LaFerrari units may be crushed by South Africa authorities; here is why
Arguably India's first Ariel Nomad has been spotted at Mumbai customs and the picture has been circulating on TeamBHP forum. Nomad is buggy-looking car with exposed frame designed along the same principles as the Atom. Unlike the Atom which concentrates on road driving, the Nomad is an off-road biased car. It has no bodywork or roof and is built entirely around a tube chassis, allowing it to weigh just 670 kilograms.
The Nomad sports an outboard suspension, has raised ground clearance, long travel dampers, damage-resistant body panels and a fully washable interior. The instrument cluster and pedal box are very similar to that of the Atom. The instrument cluster also sports an LCD dashboard and programmable shift lights. The individual lightweight seats are weatherproof as well.

The Nomad draws power from a 2.4-litre four-cylinder iVTEC engine sourced from Honda. The mill develops 235bhp and 300Nm of torque mated to six-speed manual gearbox. The all-terrain vehicle is capable of shooting from 0 to 100kmph in just 3.4 seconds. The exoskeleton car also comes with Limited Slip Differential (LSD) and in rear-wheel drive format.
There is now confirmation on the owner of this Nomad. India is already home to an Ariel Atom owned by Gautam Singhania, chairman & managing director of the Raymond Group. The Nomad may have come to meet the lone Ariel Atom.
Photo source: TeamBHP