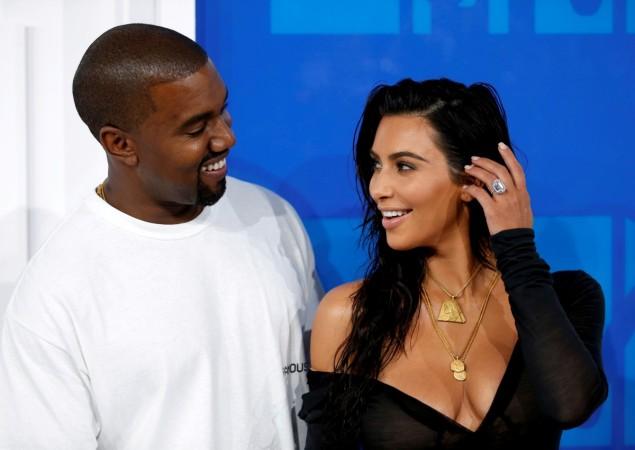 Fashion model and TV star Kim Kardashian has reportedly told her husband Kanye West to "stop flirting" with her sisters. This comes after the 41-year-old rapper stated he would have sex with his wife's sisters – Kourtney Kardashian, Khloe Kardashian, Kendall Jenner and Kylie Jenner -- in his new song XTCY.
In the new track, he raps: "You got sick thoughts? / I got more of 'em / You got a sister-in-law you would smash? / I got four of them / Damn, those is your sisters / You did something unholy to them pictures / Damn, you need to be locked up / Nah, we need a bigger hot tub."
According to Closer, Kim is unhappy with the new song. A source said: "Kim is notoriously competitive with her sisters when it comes to looking the slimmest and the hottest. The idea that Kanye may think they — especially the younger ones — are better looking than her really hurts."
"She's told him in the past not to flirt with them and she's made her feelings clear to him again. She felt his new lyrics about them were a step too far," the insider added.
"Kim tries to be understanding and knows Kanye love to be controversial, but to embarrass her so publicly like this is crossing the line and she feels like he's got so out of control, she's powerless to stop him," the source added.
Adding on, the publication claimed that Kim accused Kourtney and Khloe of "flirting with Kanye" at Kylie's 21st birthday party. The insider stated: "Kim felt Kourtney was all over Kanye... and said Khloe was also acting inappropriately. Even though Kim didn't feel remotely threatened, it still irritated her."
Kim tied the knot with Kanye in Florence, Italy, on 24 May 2014. The 37-year-old reality star has three children with the rapper - North, Saint, and Chicago.
The socialite's personal life has always been topic of discussion for the public and media. Kim has a history of failed marriages. In 2000, Kim eloped to Las Vegas and married Damon Thomas, when she was just 19. They split three years later. In August 2011, Kardashian married NBA star Kris Humphries after just six months of dating. However, the couple parted ways in 72 days.