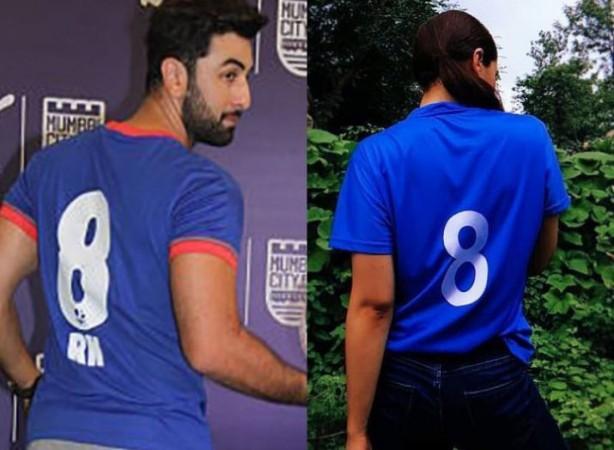 Speculations are rife that Ranbir Kapoor is dating Alia Bhatt and will eventually get married to her. Moreover, now Alia has also shared a picture on her Instagram that confirms what he said about their 'relationship'.
Alia Bhatt shared a picture of her wearing a blue football jersey with number 8 on its back. Ranbir also wears the same number 8 jersey when he plays football. Ranbir owns the Mumbai City FC in the Indian Super League (ISL).
Alia captioned her Instagram picture and said, "To infinity and beyond". The number 8 can also look like the infinity sign horizontally. Take a look.
Although Ranbir Kapoor is off social media, Alia has been quite vocal about her love for Ranbir through pictures that were clicked by him! She had captioned one of her photos and wrote, "& into the forest I go, to lose my mind and find my soul (amaze photographer - RK)".
Ranbir Kapoor and Alia Bhatt might not be really dating, but they sure know how a relationship can be used to promote a film. The two Bollywood actors, who star in Ayan Mukerji's superhero trilogy Brahmastra, have been on a promotional spree.
While speaking about his relationship with Alia Bhatt, Ranbir Kapoor has said that it is very new and he needs time. He told Hindustan Times, "It is something beautiful, sacred and really important to you, so you want to deal with it in a nice manner."
"I have always believed that marriage is something that will happen naturally. It can't be like, 'Okay, I am 35 now, so it's time to get married'. It should come to you and your partner naturally and you should both feel, 'This is the right phase. Now, we should take this relationship to the next level'. But abhi aisi koi baat nai hai. I haven't decided on marriage yet," Ranbir said when he was asked about marriage.
Well, we don't know if this romance is actually real! But for fans of the two stars, it is good to know that Brahmastra --a trilogy-- has two more films coming up if the first film works! For now, enjoy the PDA of Alia Bhatt and Ranbir Kapoor.