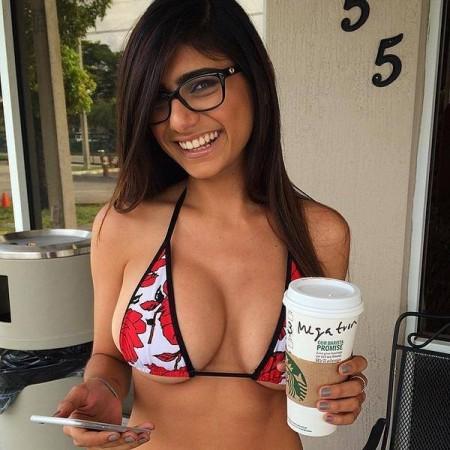 Porn star Mia Khalifa, the most-searched porn star on PornHub, seems to have caught rapper Drake's attention.
The 21-year-old revealed during an interview on a local radio program on Thursday that she has had celebrity fans, and one such famous names rhymes with "rake".
"What? Did we just break news right here? the WQAM radio host questioned. "I'm just going to pretend I have no idea what you're talking about… What she did was perfect. It rhymes with 'rake', and he may or may not be a little bit whiny."
When the host questioned how she reacted to on being hit on by a celebrity, the porn actress replied that she didn't pay attention because it wasn't Pearl Jam frontman Eddie Vedder, whom she appears to have a crush on.
"It was flattering, but his intentions were obviously clear," said Khalifa. "It was so cringeworthy. The whole thing was cringeworthy." The radio host then proceeded to suggest if Drake sent her a photo of himself lying on bed, the porn star said the description was "halfway there".
Khalifa grabbed international headlines just three months after making her industry debut, and usurped PornHub's former reigning champion Lisa Ann's throne to be the website's number one star.
However, these accolades were followed by criticism too. Many people weren't happy that the Lebanese-born Khalifa were flaunting her Middle-Eastern connection on her social networking platforms.
Several media outlets noted that she has upset and offended her natives by boasting about the Lebanese heritage on Twitter and Instagram, in addition to posting photographs of her Arabic tattoo that reads "Koullouna lil-watan, lil'oula lil-'alam," which is the opening line of the Lebanese national anthem.
But the 21-year-old has not taken these criticisms to heart, and tweeted that the people of Middle East should be more worried about terrorism, than waste their time on her.
"Doesn't the Middle East have more important things to worry about besides me? How about finding a president? Or containing ISIS?" she tweeted.