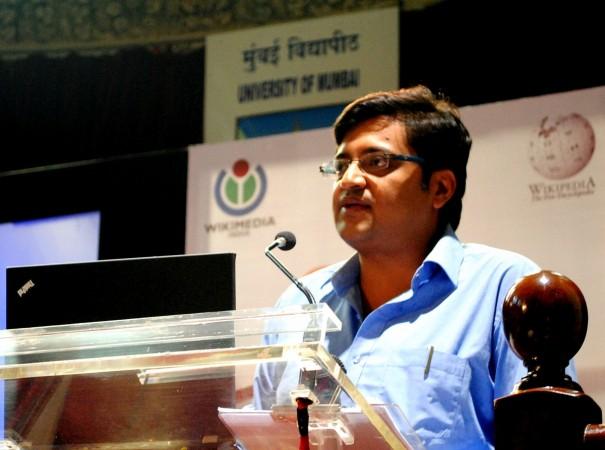 Popular news anchor Arnab Goswami who also heads the Republic channel is being trolled on social media by Keralites. The reason? Well, apparently, the controversial journalist called the people of the flood-hit state "a bunch of shameless people".
A video clip from Goswami's debate show has been doing the rounds on social media. In the one-minute-long clip, the anchor is seen calling a group of people as the "most shameless bunch of Indians" he has ever seen.
India: Arnab Cowswamy, unofficial spokesman of the sanghis (RSS), calls victims of Kerala floods "the most shameless bunch of Indians I have ever seen."

Kerala's cohesive multicultural society (50% Hindu, 28% Muslim, 18% Christian) threatens the Hindu fascist project. pic.twitter.com/C4UlQKdcbu

— CJ Werleman (@cjwerleman) August 25, 2018
The debate on Goswami's show was based on the current controversy regarding India refusing to accept foreign aid for rescue and relief operations in the disaster-ravaged state. In the clip that has ever since gone viral, Goswami says: "this group is shamelesss..it's the most shameless bunch of Indians I have ever seen. They have gone around spreading lies ..I don't know what they get..do they get money for abusing their own country..who are they funded by..point is it's a conspiracy to malign India."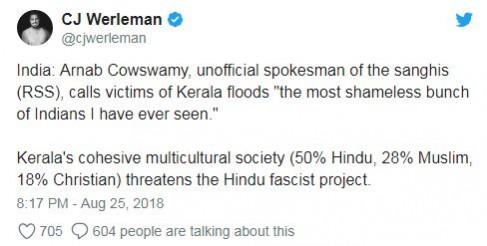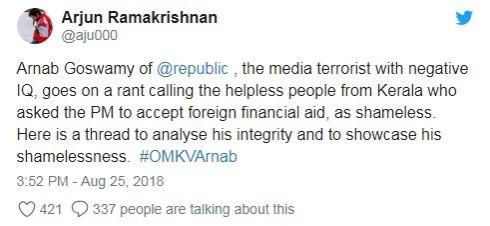 As soon as the video went viral, Keralites began trolling Goswami for his rude remarks. While some called him the unofficial spokesman of the RSS, some termed him the most shameless man in the world. Some also felt that the video clip lacked context and it was not the people of Kerala that the anchor was referring to but the people who have been spreading fake news and lies about the Rs 700 crore aid from UAE.
So, did Goswami really insult Keralites or was he targeting only a particular group of people who were spreading rumours?
If we watch the entire debate, Goswami is also seen praising the people of the state and even seemed sympathetic towards their ordeal.
"When the people of Kerala have been so physically vulnerable, because Ranjeev, the people of Kerala have been so psychologically resilient, you know, and I come from Assam which has been a flood-ravaged state myself, and I can therefore empathise," Goswami says while debating with his panellists.
"The people of Kerala, psychologically resilient. They have shown how great they are as people, how strong they are, and I am only saying, at this point in time that somebody is using fake news to manipulate them. Manipulating people at the time of tragedy is cheap. I have proven it that this was happening and the Congress hand is all over it."
"In fact, I will tell you one thing, I find less of a left hand in this but I see a very strong Congress hand if you analyse the number of tweets here. Gunja, do you manipulate people? Do you play on their sentiments? Will the people of Kerala forgive this?" he added.
It looks like Goswami was not targetting Keralites and calling them shameless. He was referring to a particular fringe group which was trying to built a Kerala vs India narrative by spreading lies.
Commie Jihadis r busy spreading fake news saying,
Arnab Goswami called all Malayalis "Shameless bunch of Indians"

FACT is, He said it on group of people,who tried to manipulate all Keralites by FALSE NARRATIVES ? pic.twitter.com/cLD6u7KPJU

— OptimuS PrimE?? (@Vin4modi) August 25, 2018
After the video clip went viral, Kerala MP Rajeev Chandrashekhar, who is also an investor in the Republic channel and had resigned as its director in April, took to Twitter to clear the misconception.
"Theres a few clowns on social media trying to build a fake narrative abt @republic 's editor #Arnab calling Malayalis "shameless" Its a LIE (watch video) n smells of usual Congress style nonsense. m respndng bcoz some of u asking me abt this!" he tweeted.
The Controversy
On August 21, Kerala Chief Minister Pinarayi Vijayan had tweeted that UAE has offered an aid of Rs 700 crore for the flood-hit state and that the information had been communicated to Prime Minister Narendra Modi by the crown prince of Abu Dhabi. Even Prime Minister Modi had tweeted and thanked the UAE government for helping Kerala.
However, a few days later, the Ministry of External Affairs said that India can not accept any foreign aid because of an existing policy on receiving funds which was implemented during the UPA regime in 2004.
In an interview to Indian Express, an envoy from UAE had said that the Gulf country had not made any official announcement regarding the aid and they were still accessing the losses incurred during the floods. The statement of UAE Ambassador Ahmed Albanna left the Kerala government red-faced.
Since then, the news of the UAE offering Rs 700 crore aid to the state has been a much-talked-about issue. BJP's IT cell head Amit Malviya had also called the aid a 'non-existent offer', making it clear that no aid has been offered by the UAE.