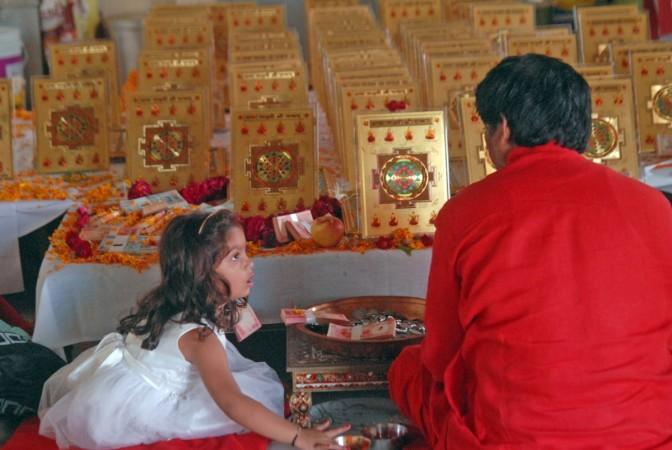 India is getting ready to celebrate the five-day-long Diwali festival. The first day of Diwali festivities will begin with Dhanteras on Friday and two days after that Diwali will be celebrated.
Dhanteras is derived from the Sanskrit words "dhan," which means wealth, and "teras," which means the 13th day of the Hindu calendar.
Dhanteras, also known as Dhantrayodashi Puja, is an auspicious day to buy new things, especially bullion like gold and silver. On this day, Goddess Lakshmi is worshipped to gain prosperity and well-being. And this year, Dhanteras will be marked on October 28.
According to the Hindu mythology, on the day of Dhanteras, Goddess Lakshmi appeared when the demons and gods were churning the ocean for amrita or nectar (drink of immortality) and vish or lethal poison and blessed Lord Kuber, who is considered the god of wealth.
Another popular belief is that on this day the daughter-in-law of king Hima saved the life of her newly wed husband. As per mythology, king Hima's 16-year-old son was destined to die on the fourth day of marriage due to a snake bite. In order to save her husband's life, she advised him to stay awake the entire night. She made heaps of gold and silver coins near the door of their room and narrated stories to keep the husband awake. On the predicted night, Lord Yama disguised as a snake arrived at the palace to take with him the king's son, but he was not able to enter the chamber due to the heaps of gold and silver. Lord Yama stayed over the heap the entire night, listened to the stories narrated by Hima's daughter-in-law and the next morning, left the palace alone.
Since then, buying and worshipping of gold and silver gained spiritual significance.
Dhanteras holds special significance for the business community in India, as businessmen believe that it brings in fortune. On Dhanteras, leading stock exchange BSE will arrange extended trading sessions.
"On the auspicious occasion of Dhanteras on Friday, October 28, 2016, the exchange has decided to conduct an extended Live trading session in Gold ETF securities and SGB securities in the equity segment," the BSE said in a notice.