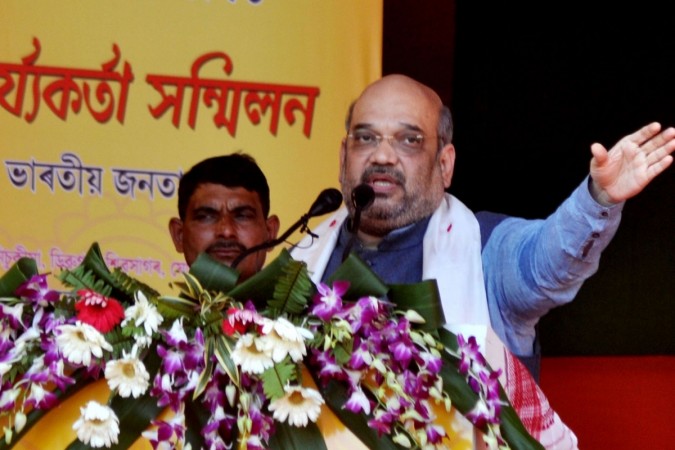 Addressing party workers in Barabanki, Uttar Pradesh, ahead of the upcoming state assembly elections scheduled in 2017, BJP President Amit Shah on Monday said development of Uttar Pradesh would remain a distant dream unless the ruling Samajwadi Party is ousted.
"I want to ask Akhileshji where the additional Rs. 2 lakh crore Modiji gave has gone. I want to tell you why the money did not reach you (people). Every state has one chief minister, but in UP there are three-and-a-half Chief Ministers if you take into account his father and uncles besides Mohd Azam Khan," he said while referring to Chief Minister Akhilesh Yadav's father and SP supremo Mulayam Singh Yadav, Akhilesh's uncle Shivpal Yadav and state minister Azam Khan.
Shah said the"three-and-a-half chief ministers" have "failed miserably" in maintaining law and order in the state and added that incidents like Kairana are happening all over UP.
"The UP government has redefined law and order as 'lo and order karo' (take bribe and issue order) This (alleged exodus) is not taking place only in Kairana but in the entire state. The issue is related to law and order. Will (US President Barack) Obama handle law and order here," he said at a booth level workers' meet.
Calling the recent merger between SP and gangster-turned politician Mukhtar Ansari's party as "shadow boxing between uncle and nephew," Shah said the party is "full of Mukhtars and Ateeqs."
"Recently the CM's uncle (Shivpal) merged Mukhtar's party with SP. People are aware of such theatrics of shadow fighting between uncle and nephew. You say you will not take Mukhtar Ansari into party fold, then what will you do about Ateeq Ahmed? SP is full of Mukhtars and Ateeqs," Shah was quoted as saying by the Indian Express.
While making a bid for the BJP, shah said that PM Modi had done enough development work in Gujarat and now it was his responsibility to do the same for Uttar Pradesh.
"When I went to Gujarat, people told me that Prime Minister Narendra Modi belonged to that state but it is not the case anymore. PM Modi is now an MP from Varanasi, he is now a UP wala," he said.
During the speech, Shah also emphatically declared that the BJP is going to win the upcoming elections by a two-third majority and form the government in the state.