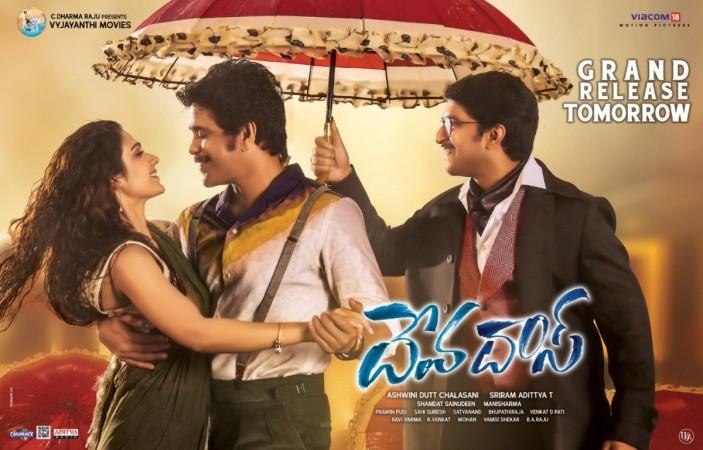 Director Sriram Adittya's Devadas (Devdas/Deva Das) has made decent collection at the worldwide box office on the first day of its release. The film has emerged as the biggest opener for Nagarjuna and Nani in recent years.
The rare combination of Akkineni Nagarjuna and Nani has generated a lot of curiosity about Devadas. In addition, the promos of the film struck a chord with audience and doubled the craze and curiosity about the film. The hype surrounding it helped the makers sell its theatrical rights at record prices. The distributors released the film in a large number of screens in a bid to cash in on the hysteria.
The hype also helped the Akkineni Nagarjuna and Nani starrer to register decent advance booking for its opening day. The movie received fantastic response in the early morning shows and positive talk boosted its collection in the later shows on the day. The movie witnessed an average of 75 percent occupancy in cinema halls. Many theatres ran to packed houses on the first day.
The makers are yet to reveal its numbers. If we are to go by early estimates, Devadas has collected approximately Rs 11.54 crore gross at the worldwide box office on the first day. The movie has beaten the records of all the big ticket movies of Akkineni Nagarjuna and become the biggest opener for him.
On the other hand, Devadas also shattered the records of Nani's Ninnu Kori (Rs 10.20 crore gross), Nenu Local (Rs 9.70 crore gross) and Krishnarjuna Yuddham (Rs 9.70 crore gross). But the movie has ended up becoming the second biggest opener for the actor as it failed to smash the record of his film MCA (Rs 15.50 crore gross).
Devadas fetched Rs 38 crore for its producers from the sale of its theatrical rights. The movie has earned Rs 6.75 crore to its distributors on its first day and it has recovered 17.76 percent of their investment.
Here are the area-wise earnings and theatrical rights' prices of Devadas. These numbers are based on various reports and they may not match with the real ones. All the figures are in Rs and crore.
| | | |
| --- | --- | --- |
| Area | Rights | Earnings |
| Nizam | 11.10 | 1.45 |
| Ceded | 5.05 | 0.73 |
| Vizag | 3.35 | 0.58 |
| G East | 2.40 | 0.39 |
| G West | 1.95 | 0.26 |
| Krishna | 2.25 | 0.33 |
| Guntur | 2.80 | 0.53 |
| Nellore | 1.25 | 0.19 |
| AP/T | 30.15 | 4.56 |
| Karnataka | 2.05 | 1.20 |
| Rest of India | 0.75 | 0.24 |
| Overseas | 5.05 | 0.75 |
| Global Total | 38.00 | 6.75 |