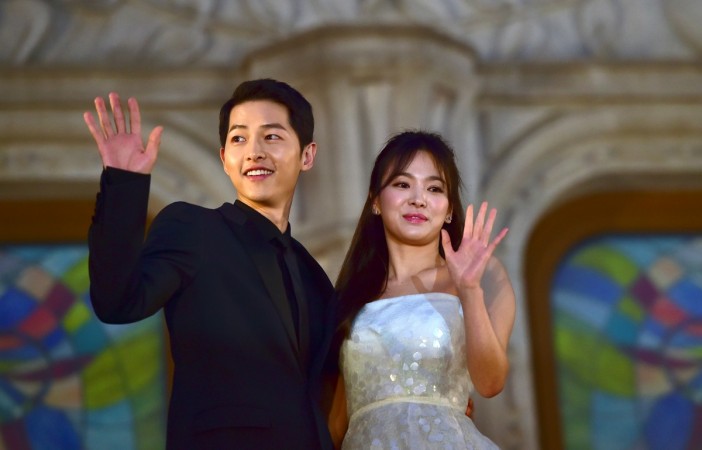 Rumors started doing the rounds that Song Joong-Ki and Song Hye-Kyo are expecting their first baby after the Descendants Of The Sun actor was spotted holding an item with "baby" printed on it. However, it was later revealed that Joong-Ki was holding the item because a fan had gifted him.
The news of Hye-Kyo's pregnancy went viral after Chinese media outlets reported that a photo of Joong-Ki showed him buying a book for baby care for his "pregnant wife" Hye-Kyo. It was later learned that the photo was taken after 2017 MAMA Awards and also the baby care book was given by a fan, who bumped into the actor.
Fans of the Song-Song couple slammed Chinese media outlets for the fake pregnancy news.
"I saw the picture and it's just a gift from a fan. They need to write reports after thoroughly checking,'' one fan stated, according to KoreaPortal. ''Chinese media outlets and their attention (on the Song-Song couple) is just too much. They need to keep that overwhelming attention for just the Chinese stars,'' another fan of the Descendants of the Sun stars said.
Last year, Joong-Ki opened about his future plans and said that he is thinking of children but it won't be anytime soon. While talking to a South Korean daily, Joong-Ki said that after his marriage he will start choosing projects differently.
"We have jobs in which we have the attention of a lot of people. I definitely did become more wary. I'd like to train my mind. I do have to be more serious looking into the future. The projects I choose will become different too, especially when I get married and have children. Right now, it seems far off," he said.
While Hye-Kyo's pregnancy rumors have been refuted, fans voted to say that they are looking forward to Song-Song couple's baby. The Song-Song couple got the highest votes in the most anticipated celebrity couple's baby survey conducted by Panel Now, a South Korean survey company.