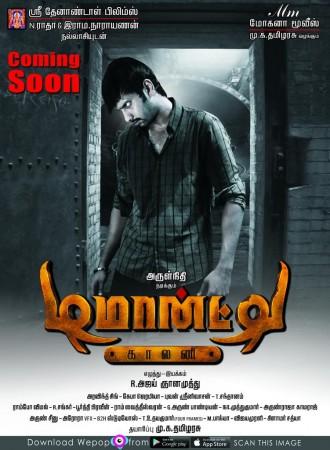 "Demonte Colony" which opened to overwhelming response from audience and critics is now racing to be one of the biggest successes of 2015. Without much fanfare, the horror movie hit screens in Tamil Nadu on 22 May.
As per latest reports, the movie is doing great business in Tamil Nadu box office and according to trade analyst and industry tracker Sreedhar Pillai, "Demonte Colony" has managed to mint 5.35 crore in six days (22 May to 27 May).
#DemonteColony In 6 days May 22 to 27 grossed Rs 5.35 Cr approx, TN. Very Good. Congrats @arulnithitamil, @AjayGnanamuthu @ThenandalFilms

— Sreedhar Pillai (@sri50) May 28, 2015
Written and directed by Ajay Gnanamuthu, "Demonte Colony" is viewed by audience as a experimental film along the lines of "Pizza". The movie saw fantastic opening weekend and this run continued in the weekdays as well.
[Click Here to Read 'Demonte Colony' Movie Review: Arulnithi Starrer is a Technically Sound Horror Flick]
The story of "Demonte Colony" revolves around four friends and how they get trapped in a world of ghost and spirits after their visit to haunted Demonte Colony bungalow. Besides the script of the movie, it was the performance of lead actors – Arulnithi, Ramesh Thilak, Sanath and Abhishek Joseph -- that impressed audience. The technical aspects of the movie is also considered as a major highlight of the movie.
With the success of "Demonte Colony", the predictions of box office analysts who saw yet another horror movie making it big has come true. Recently, Tamil cinema saw many horror films like "Kanchana 2", "Pizza", "Yaamirukku Bayamey", "Aranmanai", "Pissasu" and "Darling" making an impressive mark at the box office. The latest figures of "Demonte Colony" suggest that the movie is also one among them.
At the same time, trade analysts are waiting to see how this new horror flick is going to surivive its second weekend with the release of Suriya-Nayanthra starrer "Masss". If "Demonte Colony" can withstand the pressure of the big Suriya movie, nothing can probably stop it from being a blockbuster hit.