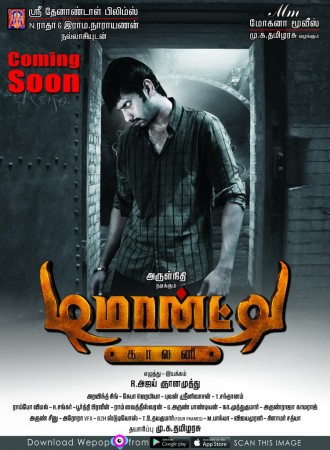 IBTIMES INDIA RATING:3
"Demonte Colony", featuring Arulnithi in the lead, finally hit the screens on 22 May. The horror movie will not disappoint if you go to the theatre without much expectations.
"Demonte Colony" does not have really scary moments or shock elements, but has a plot that will keep you interested till the end. The story of the film revolves around four young men Sreenivas (Arulnithi), Raghavan, Vimal (Ramesh Thilak), and Sajin, who struggle to lead a comfortable life. The character of Raghavan, an aspiring filmmaker, is the one who brings in the element of suspense in their lives.
For the purpose of preparing a script for his movie, Raghavan comes across Demonte Colony in Chennai. The huge mansion, which is in the middle of the city, is two centuries old and is known for being haunted. One night, these four friends decide to go to Demonte Colony, which will change their lives forever.
[Click Here for 'Demonte Colony' Movie Review: Live Audience Response]
The best part about the screenplay is that it has given all actors equal screen presence, thereby avoiding any star element in it. But, certain turn of events made the story appealing.
If this movie manages to become a success financially, the credit should go to director Ajay Gnanamuthu for making sure the film is not predictable and also for concluding the movie in the best convincing way possible.
Special credit goes to the sound designers of the film for making the film a presentable one, and Keba Jermiah's background score added to the horror element of the film. Another aspect of the film that has received positive review is the art department. They made the haunted house look convincing, and the house of the young bachelors was also good.
Cinematographer Aravind Singh has done a decent job with his camera, and editing by Bhuvan Sreenivasan is crisp and neat. The VFX works are also very good.
Coming to the performances, all the four leading actors have done a commendable job. Overall, "Demonte Colony" is worth your time.