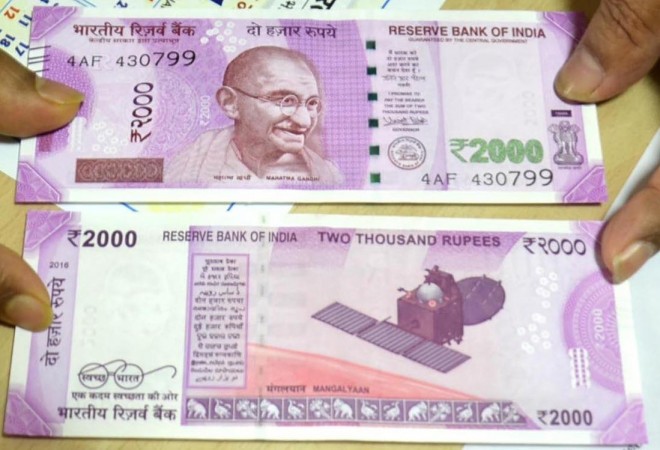 India introduced Rs 2,000 notes, two days after Prime Minister Narendra Modi announced demonetisation of old Rs 500 and Rs 1,000 currency notes on November 8 as part of his crackdown on black money. Since then, at least four instances of fake Rs 2,000 notes have surfaced, raising alarm.
In the latest, Hyderabad police seized 105 fake Rs 2,000 notes worth Rs 2.10 lakh from a gang of six accused, who were using photocopying machines for the purpose. The overall seizure was worth Rs 2.23 lakh, including fake notes of smaller denominations (Rs 100, Rs 50 and Rs 10).
The six accused were arrested in Telangana's Ranga Reddy district, about 35km from Hyderabad. Two colour photocopying machines, incriminating documents and Rs 50,000 cash were seized, reports IANS. Two others are absconding.
The arrested are Jamalapur Sainath, 28, a butcher by profession, G Anjaiah, C Satyanarayana, K Sridhar Goud, A Vijay Kumar and S Ramesh, while the two accused on the run are Kalyan and Srikanth, Rachakonda Commissioner of Police Mahesh Bhagwat told reporters in Hyderabad, according to IANS.
Earlier cases
Odisha
On November 22, Odisha police seized fake Rs 2,000 currency notes worth Rs 4.8 lakh in separate instances. The matter came to light when Madhusudan Meher of Jharsuguda was caught trying to use the fake currency note at a petrol pump in Sunarimunda, about 185km from Bhubaneshwar.
"The note is a colour photocopy of an original Rs. 2,000 currency. A case has been registered at the Jharsuguda police station and investigation is underway," Sub-divisional Police Officer (SDPO) of Jharsuguda, Bijay Nanda, told PTI on November 22.
Gujarat
A paan shop owner in Ahmedabad ended up with a fake Rs 2,000 note on November 22 in the normal course of his business. Vansh Barot, whose shop is on Judges Bungalow road, realised that something was amiss when the newly-introduced note looked soiled even as he was counting the day's earnings.
"The Rs 2,000 note was introduced recently so it had to be crisp and new in appearance. This note, however, looked begrimed and faded in colour. I suspected it could be a fake," the Times of India quoted him as saying. His fears came true when a bank manager confirmed that the note was fake.
What shocked the bank manager was the level of sophistication that had gone into printing the fake note. "It was not a simple copy. The fake note brought by Vansh had a security strip and a Gandhi watermark next to the Ashok Pillar emblem. However, it did not have the additional electrotype 2,000 watermark," Central Bank of India's Chief Manager (Lal Darwaza) B R Ramkrishna Naik told the newspaper.
"The seven raised angular bleed lines on the right and left side of the fake 2000-rupee note had gaps. The emblem too was not printed properly. The colour of the fake note was darker than the real note," Naik added.
Karnataka
The first instance of con job with the Rs 2,000 note was reported on November 12. The victim was Ashok, a vegetable vendor in Chikmagalur, who was cheated by an unidentified suspect.
The Indian Express reported that one of Ashok's workers accepted the fake note from a buyer who bought goods worth Rs 1,700 and handed over the fake note.