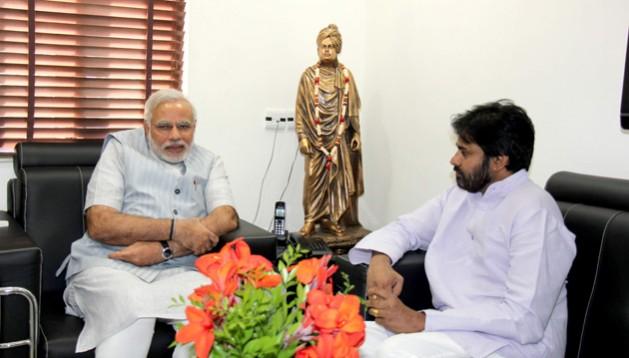 Jana Sena Party chief Pawan Kalyan has blasted the Narendra Modi government for not doing a proper exercise before announcing on November 8 that Rs 1000 and Rs 500 notes will no longer legally tender, which has been causing problems to the public for the last 12 days.
Pawan Kalyan, who campaigned for the BJP and the TDP, in the 2014 Lok Sabha elections, had recently expressed his displeasure over not delivering the promise of special category status to Andhra Pradesh. It was over 10 days after Prime Minister Modi announced his decision on demonetisation, but the actor-turned-politician was keeping mum on the issue. His fans were eagerly waiting to know his opinion on it.
The power star finally broke his silence on Sunday afternoon and took to his Twitter handle to share his views on the demonetisation. In a series of tweets, Pawan Kalyan said people across the country are suffering from the government's bad decision and it should have done a proper analysis of the situation before delegalising the notes.
Pawan Kalyan tweeted: "Government has to spell out the position of actual new currency position.Rural economy and unorganised urban market is to be taken care. Senior citizens are to be taken care & Government should take measures to stop unrest in public. Government has to spell out the actual new currency position.Rural economy and unorganized urban market is to be taken care."
Pawan Kalyan added: "The government should have done some serious exercise before delegalizing the tender. It is evident from the current situation that government has not done enough exercise.. ..and has no proper estimation before announcing the delegalization of currency. Government can not hide long time under the shade of maintaining secrecy."
Meanwhile, Pawan Kalyan recently waged a war against the central government to get special category status for Andhra Pradesh. He toured some cities across the state to create awareness about the issue. During his public meetings, the actor had blasted PM Modi for not keeping up his promise to the people of the state.