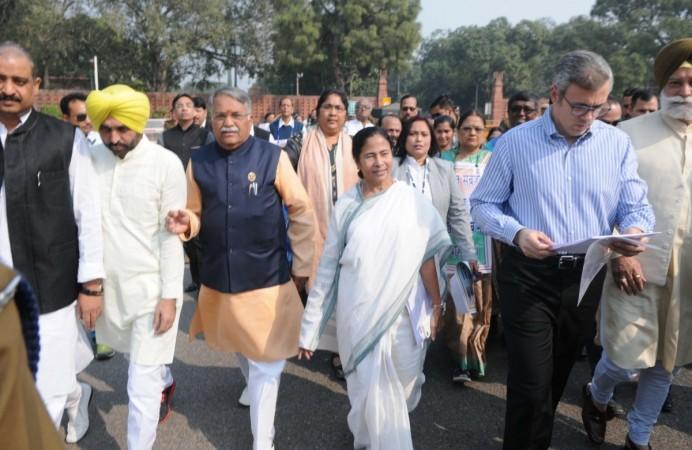 Opposition parties have decided to observe a protest called the 'Aakrosh Diwas' against demonetisation across the country on November 28. They have called for a Bharat Bandh to protests against the government's decision.
This comes amid an uproar in both Houses of Parliament over the issue and the government's refusal to discuss the matter in the Lok Sabha that would end in a vote.
Opposition parties also formed a human chain earlier during the day demanding that Prime Minister Narendra Modi speak in Parliament and address everyone's concerns regarding his decision to demonetise currency notes of Rs 500 and Rs 1,000. However, the Centre refused to give in to their demands.
PM Modi was present in the Lok Sabha on Wednesday but did not address the house. Both the Lok Sabha and the Rajya Sabha were adjourned again for the sixth consecutive day of the Winter Session without having a constructive debate on the issue.
When the session resumed again, the Opposition demanded that demonetisation be discussed under the rule that requires voting. It also staged a protest in front of the Gandhi statue outside Parliament.
Meanwhile, Bengal Chief Minister and Trinamool Congress Chief Mamata Banerjee held a protest at Jantar Mantar on Wednesday that was also joined by veteran actress and Samajwadi Party member Jaya Bachchan.
"This protest is not about election. The government should understand that whatever they did is affecting the normal people. Most of the industries are on standstill. The labour and working class is not getting their daily wages and are not able to eat anything. When our country's economy was moving at a steady rate, the government brought in demonetisation that really shuffled our country. I challenge BJP that this time nobody will support their party. Even their own workers will abandon them," Banerjee said while addressing the rally.
She added: "Power me rehne se aankhen or kaan bandh hojate hain. Itni badi akad hai inme. (the government has closed its eyes and ears since gaining power. They have a lot of attitude.) The government has lost all the credibility. If credentials are lost, everything is lost. This is a feudal landlord system brought by this government, where the poor are snatched off their earnings."