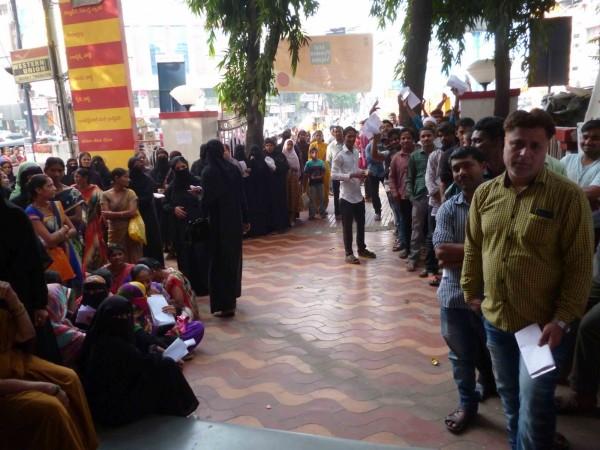 Economic Affairs Secretary Shaktikanta Das on Wednesday announced several measures taken by the Narendra Modi government to provide immediate relief to people facing problems due to the demonetisation move.
Here are the important points from a press conference that took place in New Delhi:
Around 82,000 ATMs across the country have been recalibrated to dispense new notes, while the rest of them will be recalibrated in the next few days.
The new Rs 500 and Rs 2,000 currency notes have been made available in around 1.55 lakh post offices across India.
Those using debit cards will not have to pay service charges. All public banks and a few private banks will waive off service charges levied on the use of debit cards till December 31.
Service charges will not be levied on digital transactions till December 31.
Indian Railways will also not levy service charges on e-ticket booking till December 31.
The government has advised public organisations, public sector units (PSUs) and other agencies to use digital payment for paying salaries and other expenses.
The government has instructed the National Bank for Agriculture and Rural Development (NABARD) and the Reserve Bank of India (RBI) to ensure that the District Central Cooperative Banks (DCCBs) have enough cash available for farmers and that they get credit and certain amount in cash.
NABARD has sanctioned Rs 21,000 crore to the DCCBs to help the agricultural and rural sectors get credit and cash.
All public sector banks and a few private sector banks and switching service providers have decided to do away with the merchant discount rate (MDR) till December 31. MDR is a fee that a merchant or a shop pays to a bank to access its payment infrastructure.
The Ministry of Road Transport and Highways has advised vehicle manufacturers to ensure that all the new vehicles are fitted with radio frequency identification (RFID) tag — a device stuck on the vehicle's windscreen that lets them pass when approaching a toll plaza enabling easier movement on highways with the money getting paid electronically.
PM Modi, in a televised address on November 8, had announced that currency notes of denominations Rs 500 and Rs 1,000 would now be considered demonetised or invalid. The decision was taken to curb the menace of black money in the country.
However, the decision has not gone down well with the opposition political parties, which have demanded that PM Modi be present in Parliament during the winter session and explain this sudden move that has affected the entire country with citizens running out of money.