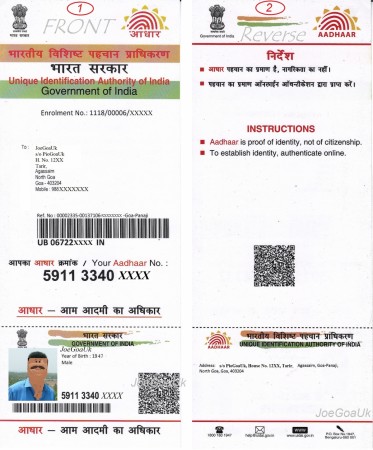 The Unique Identification Authority of India (UIDAI), in an attempt to encourage Aadhaar-enabled payments, has planned to increase biometric authentication capacity through Aadhaar from 10 crore to 40 crore a day to move to a cashless society.
The centre is also developing a mobile app to help shopkeepers and merchants receive Aadhaar-enabled payments instead of using credit and debit cards, pin numbers and password, the Press Trust of India reported.
Mobile phones will be used to authenticate biometrics of customers who use the Aadhaar-based app to make payments.
"We will create awareness about this mode of transactions. We will eventually create capacity for 40 crore authentications. Yesterday, 1.31 crore Aadhaar-enabled biometric authentications were reported. We will increase it gradually," UIDAI chief executive officer Ajay Bhushan Pandey said.
He added that biometric authentications include attendance marked by employees of government establishments. This idea could help the Centre deal with demonetisation and also curb the black money menace while bringing more transparency to financial transactions.
Around 1.08 crore people, which covers 99 percent adults, have already been issued the 12-digit number. The Aadhaar can be linked with bank accounts of individuals who can then use adhaar Enabled Payment System (AEPS) for funds transfer, balance enquiry, cash deposits or withdrawals and inter-banking transactions. They would, then, not be required to use credit or debit cards.
The AEPS biometric authentication capacity is currently 10 crore, but will eventually be raised to 40 crore, Pandey said.
Once an individual quotes Aadhaar and authenticates it using biometrics, the money gets directly transferred from the customer's bank account to the merchant's account. The Aadhaar-enabled payment can currently be used by subscribers of 118 public and private banks.
"We are asking mobile manufacturers to see if all mobiles made in India should be in-built with iris or thumb identification system to help Aadhaar-enabled transactions," NITI Aayog CEO Amitabh Kant was quoted by PTI as saying, adding that the centre was working on incentivising cashless transactions and disincentivising cash transactions.
The road map to implement digital payments will be laid out for the next one year.
"IT department is providing incentive of Rs 100 for every merchant enrolled through over two lakh common service centres across India. The ministry will undertake a major outreach communication campaign starting from Monday," IT secretary Aruna Sundarajan said.