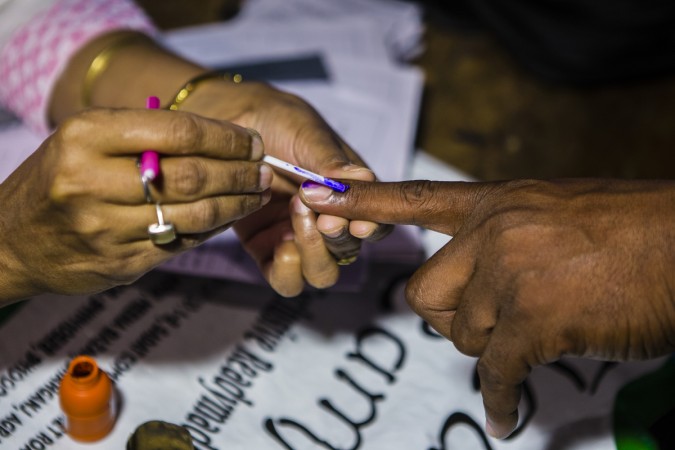 The Election Commission on Friday wrote to the Finance Ministry asking it not to allow the use of indelible ink in banks because it might create problems once the states go to assembly polls.
Uttar Pradesh and Punjab will go to polls in 2017, while by-elections in certain constituencies in Madhya Pradesh, West Bengal and Arunachal Pradesh are scheduled to take place on November 19.
Media reports suggest that the ink is being applied on the right hand of the customers so that there is no confusion when people go to vote during the elections, in which case, the ink is applied on the left hand. The ink is being applied on the index finger of the customers' right hand to make sure that they exchange old notes of Rs 500 and Rs 1000 just once at the banks.
The Centre took this decision to ensure that black money hoarders do not use other people to get their currency notes exchanged or deposited.
Eleven branches of the State Bank of India (SBI) and select branches of Bank of India, Canara Bank and the Reserve Bank of India's Delhi office started using ink on the hands of the customers on Wednesday, the Indian Express reported.
An official from Mysore Paints and Varnish Ltd (MPVL), the only recognised producer of the indelible ink in India, told the daily that the company received orders for 2.9 lakh 5-ml bottles from various banks by Wednesday evening. The cost of each bottle is Rs 116.
The Standard Operating Procedure (SOP) issued to banks on Wednesday states that the indelible ink "can be applied by the cashier or any other official designated by the bank before the notes are given to the customer so that while the exchange of notes is taking place, a few seconds lapse which will allow the ink to dry up and prevent removal of ink."
Congress spokesperson Anand Sharma lashed out at the Modi government over the use of the indelible ink saying that they were "insulting and harassing" the citizens of this country by forcing them to stand in long queues to withdraw money. He also demanded an apology from Prime Minister Narendra Modi and Finance Minister Arun Jaitley for the same.
"The decision to put indelible ink on fingers of account holders is a senseless, Fascist and Nazist act of branding people. It is shameful that they have done so with foreign tourists. Instead of sermonising, Prime Minister Narendra Modi and his Finance minister should hang their heads in shame and apologise to the people," Sharma said.