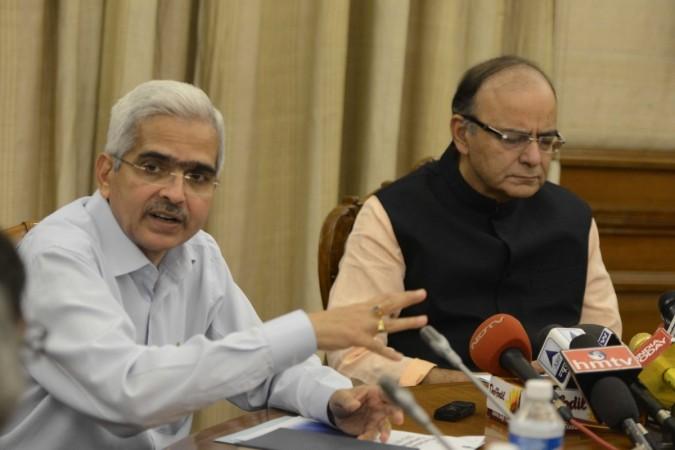 In what can be interpreted as an assurance to people upset with rising irregularities by banks after demonetisation and a warning to corrupt officials, a senior finance ministry warned that the action against 27 bank officials will be followed by more such steps in the coming days.
Shaktikanta Das, secretary, economic affairs in the ministry, tweeted about it on Friday.
"Trails being pursued by agencies. Coordinated action underway.Result already visible. Will be more visible in coming days," he posted on Friday.
Anger is high among people who are made to stand in long queues to withdraw money, even as some unscrupulous bankers have been found to be indulging in favouring select individuals with new currency notes, apart from facilitating efforts to launder black money.
Meanwhile, the Reserve Bank of India (RBI) said on Friday that it will now be releasing data on 43 select payment systems on a daily basis till December 31, 2016. Earlier, it used to be published on a monthly basis.
The data for the quarter ended September 2016 was released on Friday.
Here are some highlights:
No. of ATMs (actual) as of September end: 2,18,542
No. of debit cards as of September end: 728.18 million
No. of credit cards as of September end: 26.86 million
The central bank also sought to ensure greater cash access to farmers in the ongoing sowing season and dispel negative notions about it.
"In continuation of the above and to ensure that adequate allocation of banknotes are made for the rural branches, post offices and DCCBs, the banks are advised to involve the district co-ordinators (Lead District Managers) functioning under the aegis of the State Level Bankers' Committee (SLBC) in facilitating / planning distribution of currency from the currency chests.
"A perception has also emerged that banks with currency chests are according priority towards supplying cash to their own bank branches. These banks with currency chests are, therefore, advised to make visible efforts to dispel the perception of unequal allocation among other banks and their own branches," the RBI said in a communication to the heads of all banks.
Trails being pursued by agencies. Coordinated action underway. Result already visible. Will be more visible in coming days.

— Shaktikanta Das (@DasShaktikanta) December 2, 2016
27 officials of various PSBs suspended & 6 officials transferred for involving in transactions violative of RBI instructions #DeMonetisation

— Ministry of Finance (@FinMinIndia) December 2, 2016